In the intricate tapestry of the contemporary digital epoch, the imperative to establish a robust and compelling communicative bridge with diverse audiences has never been more paramount. The digital signage phenomenon, a sophisticated amalgamation of technology and strategic communication, has burgeoned into an indispensable tool, facilitating businesses and organizations to disseminate targeted content with precision and impact.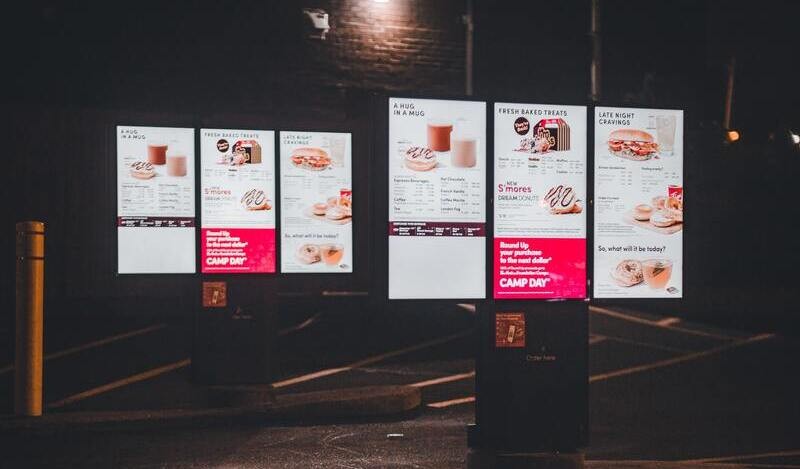 This dynamic medium, which seamlessly intertwines visual, textual, and interactive elements, has redefined the paradigms of audience engagement, brand storytelling, and information dissemination in the public and private sectors alike.
Embarking upon a journey through the multifaceted realm of digital signage, we shall unravel its operational mechanics, explore its intrinsic components, and delve into its transformative potential in sculpting contemporary communicative strategies. In this endeavor, we shall illuminate our discourse with insights drawn from the exemplary digital signage software solution – Kitcast, a beacon that epitomizes technological prowess and user-centric design in this domain.
Digital signage, transcending mere electronic displays, emerges as a comprehensive ecosystem that amalgamates content creation, management, and distribution, thereby orchestrating a symphony of information that resonates with its intended audience. It is not merely a technological tool but a strategic conduit, enabling organizations to navigate the complexities of modern communication, ensuring that their narratives are not only seen but are also impactful and engender the desired response.
In the ensuing sections, we shall meticulously dissect the operational framework of digital signage, elucidate its pivotal role in contemporary communication, and explore the myriad ways in which professional solution facilitates a seamless, intuitive, and impactful digital signage experience. Through this exploration, we aspire to furnish you with a comprehensive understanding and appreciation of digital signage, empowering you to leverage its myriad potentials in crafting communicative strategies that resonate, engage, and inspire.
What is Digital Signage?
Digital signage refers to the use of digital displays, such as LCD, LED, and projection screens, to showcase information, advertisements, and other forms of content to a specific audience. These displays can be found in a variety of locations, from retail stores and corporate lobbies to airports and educational institutions.
Essential Components of Digital Signage
At its core, digital signage comprises three main components:
Display Screens
These are the physical screens where the content is displayed. They can range from large outdoor LED billboards to smaller indoor LCD screens.
Digital Signage Players
These are the devices that store and play the content. They can be external devices, similar to a set-top box, or built into the display screen itself.
Digital Signage Software
This is the heart of the system. It allows users to design, schedule, and manage the content that is displayed on the screens. This is where Kitcast comes into play as a leading example.
How Does Digital Signage Work?
Content Creation
The first step in the digital signage process is creating the content. This can be anything from promotional videos and advertisements to informational slides and interactive content. With digital signage software, users can design content using customizable templates, ensuring that the design aligns with the brand's identity.
Content Scheduling
Once the content is ready, it's time to decide when and where it will be displayed. Digital signage software allows users to schedule content based on specific times, days, or events. For instance, a retail store might showcase a morning promotion at the start of the day and switch to an evening sale later on.
Content Deployment
After scheduling, the content is deployed to the digital signage players. These players then display the content on the screens as per the schedule. With cloud-based digital signage solutions, content can be updated in real time from any location, offering unparalleled flexibility.
Monitoring and Reporting
One of the advantages of digital signage is the ability to monitor the performance of the content. Advanced software solutions provide insights into how often content is displayed, viewer engagement metrics, and more. This data is invaluable for refining content strategies and maximizing ROI.
Why Kitcast Stands Out
Kitcast is a prime example of how digital signage software should function. Here's why:
User-Friendly Interface
They offer an intuitive interface that even non-tech-savvy individuals can navigate with ease. This ensures that businesses can get their content up and running without any hiccups.
Cloud-Based Solution
Being cloud-based, this digital signage software allows users to update and manage content from anywhere in the world. This is especially beneficial for businesses with multiple display locations.
Advanced Analytics
Kitcast provides in-depth analytics, giving businesses a clear understanding of their content's performance. This data-driven approach ensures that businesses can make informed decisions.
Integration Capabilities
This app seamlessly integrates with various third-party applications, allowing businesses to display a wide range of content, from social media feeds to real-time weather updates.
The Future of Digital Signage
In synthesizing our discourse, it becomes evident that digital signage, epitomized by displays conveying pertinent information and advertisements, is rapidly ascending to prominence in our technologically advanced landscape. This medium, when viewed through the prism of strategic communication, is poised to redefine the paradigms of audience engagement in the forthcoming era.
Envision a forthcoming landscape where digital displays transcend their conventional roles, evolving into interactive platforms offering tailored content, possibly even integrating with augmented and virtual realities. Platforms like Kitcast are at the vanguard of this transformation, offering not only user-friendly interfaces but also real-time updates and invaluable feedback mechanisms, underscoring their pivotal role in this evolution.
As we navigate the trajectory of the future, the utilization and integration of digital signage will undoubtedly be contingent upon the evolving requisites of enterprises and the broader populace. It is not merely about digital displays; it is about an integrated communicative ecosystem that seamlessly intertwines with our daily routines, facilitating enhanced information dissemination and fostering deeper global connections.
Summing Up
In summation, the strategic integration of digital signage solutions will indubitably be instrumental in shaping the communicative strategies of the future. It behooves us, as stewards of this digital renaissance, to leverage these tools with foresight and prudence, ensuring they serve as catalysts for informed decision-making, enhanced connectivity, and holistic societal advancement.
Hopefully, you like this article. Stay connected for more tips and tricks. To get regular updates regarding our posts, you can follow our Instagram, Facebook, and LinkedIn platforms.