AirDrop will allow you to transfer files easily among Mac, iPhone, and iPad. It uses a combination of technologies to transfer files securely. AirDrop makes use of Bluetooth to find devices and the device you send from creates a secure WiFi network connection to receive and send files. That is because of which it is the fastest, reliable, and secure to use. In this article, I will show you how to fix the AirDrop not working issue on Mac, iPhone, and iPad? Keep reading!
What is AirDrop?
AirDrop is the method of sending files or transfer data locally between two devices. This feature was introduced on Mac is the year 2008. However, later in the year 2013, it was extended to iOS7 devices.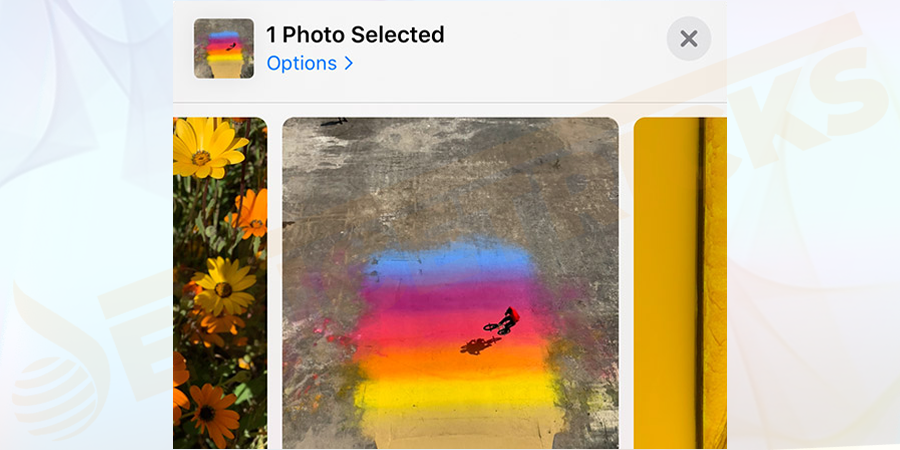 Two devices initially connect over Bluetooth, with Wi-Fi doing if the size of the files is heavy. Though it is an excellent feature when it works, but if your devices have older hardware then there are chances to occur issues.
One of the most common issues reported by the users is visibility issues. Sometimes, the recipient doesn't show up even after several attempts and this was the reason Apple introduced the new U1 chip with the latest ultra-wideband technology for iPhone 11. This will improve device discoverability and eliminate the issue of AirDrop not working.
Why AirDrop is not working?
Generally, there are several things you need to consider before using AirDrop on Mac. Consider these as preconditions. These factors will keep you in the safe side by not getting an issue of AirDrop not working on Mac.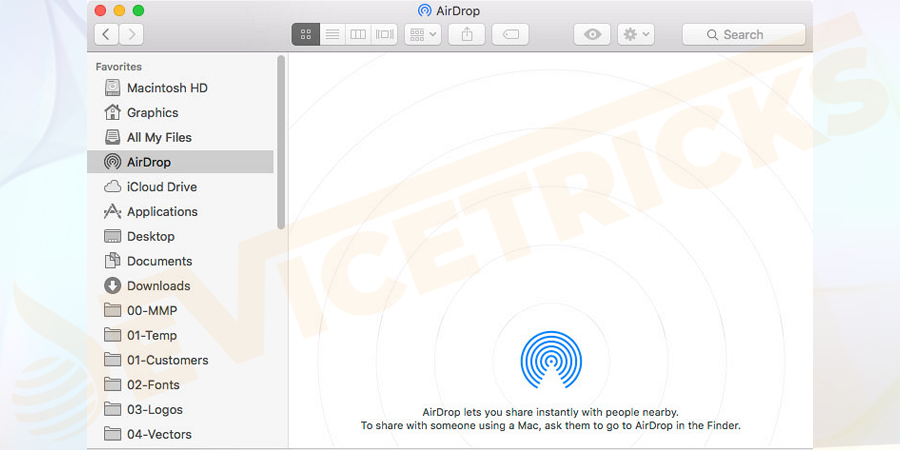 Make sure that your devices are in iOS 7/ Mac or X lion (10.7) or later versions.

Before you turn on AirDrop on Mac, make sure that both Bluetooth and WiFi are enabled.


To secure the transfer, the optimal distance between the two devices should be within 30 feet.
There are several reasons why this feature is not working correctly. Before we start with the troubleshooting, make sure you have checked the following requirements of AirDrop given below.
Which Devices are compatible with AirDrop?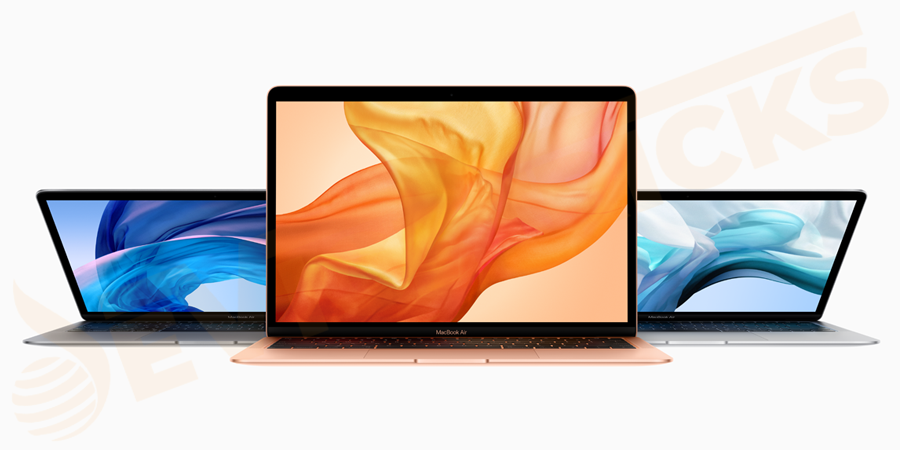 Late-2008 MacBook Pro, excluding late-2008 17-inch MacBook Pro

Late-2010 MacBook Air

Late-2008 MacBook, excluding late-2008 white MacBook

Early-2015 MacBook with 12-inch Retina display

Mid-2010 Mac mini

Early-2009 Mac Pro with AirPort Extreme card

Mid-2010 Mac Pro

Early-2009 Mac
And also it should be noted that any model newer than the one above mentioned model should work. The above devices have the possibility of getting AirDrop not working on the Mac issue.
iOS devices which are compatible with AirDrop:
Run iOS 7 or later
Have a Lightning port
Notwithstanding this broad compatibility, the older your device, the more likely you will face issues with AirDrop.
Preliminary fixes for the "AirDrop not Working" issue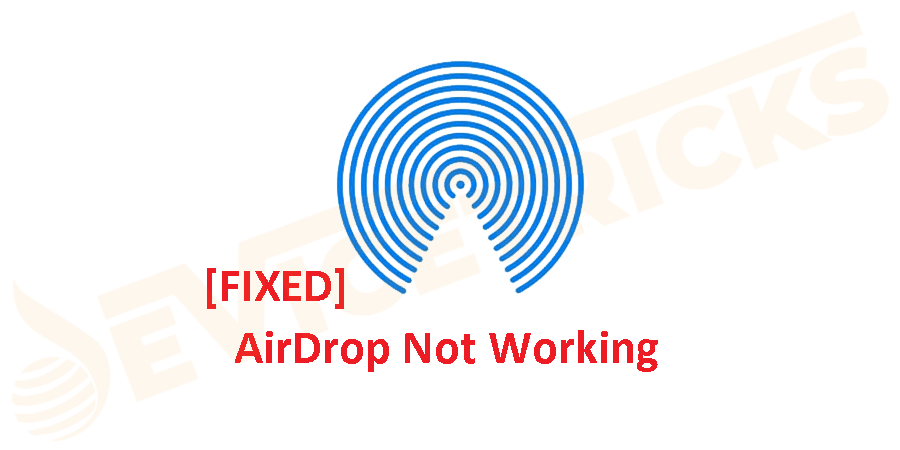 Make sure that Airplane mode is turned off. Because when it is enabled, it turns off all the radios. These are basic steps to solve AirDrop not working issue.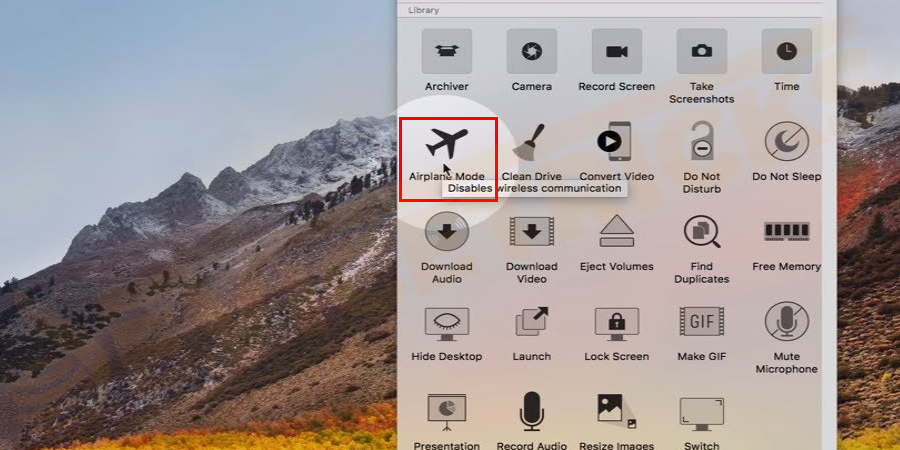 You should make sure that DO NOT DISTURB mode is disabled. Whenever DND is enabled, all the notifications will be silenced. We know that when we transfer a file via AirDrop, we get an alert. If DND is enabled, we will not get this alert.
On the device, open Settings→Do Not Disturb → Turn off the Switch.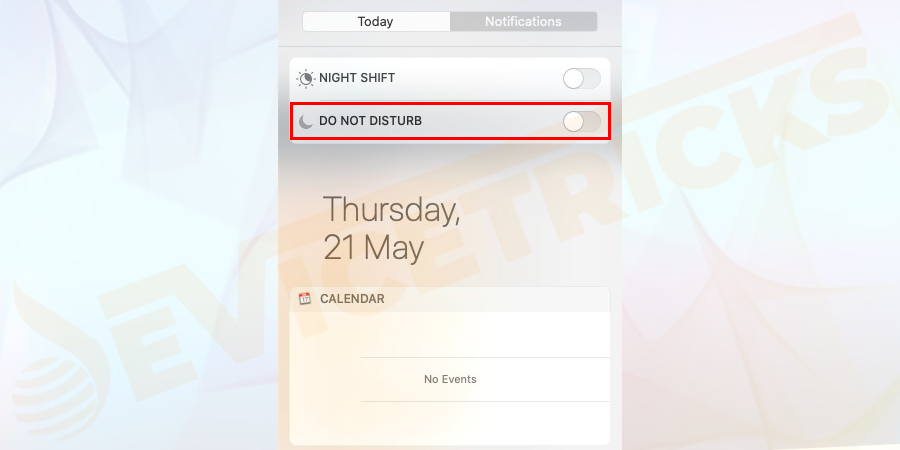 It is also suggested to turn off the personal hotspot because, both the hotspot and AirDrop uses WiFi. If both are enabled and one of them is functioning, it prevents others from functioning.
Open settings in iOS→Personal Hotspot and turn off the switch next to it.
AirDrop on Mac uses Bluetooth technology. Make sure the devices placed within 30 feet distance. At times, opaque bodies may become an obstacle. So place the devices near each other to speed up the Bluetooth reception.

Moreover do not send multiple file types like images, docs, and web links at a time. Instead, send the same type of files at a time.
How to Fix the "AirDrop not Working" on Mac Issue?
If the above solutions don't work, try starting the below solutions to fix AirDrop not working on Mac.
Restart your Mac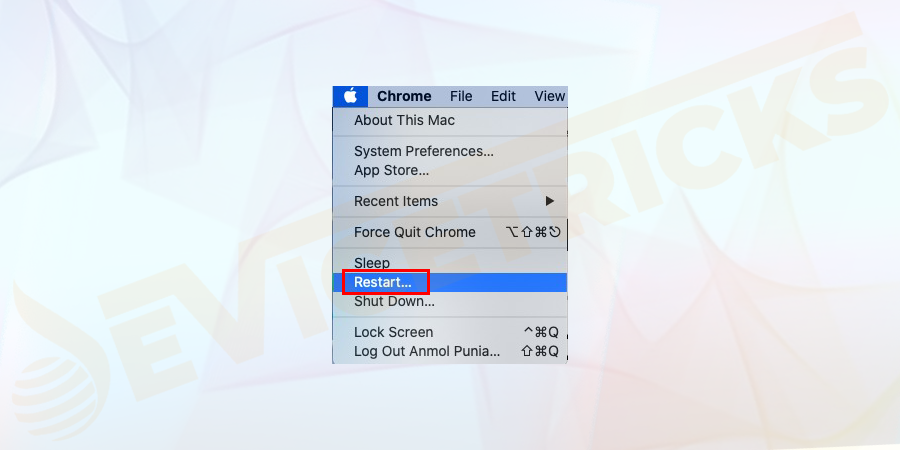 Though it is very simple, however, sometimes it is the most effective way to solve AirDrop issues. It may not be acceptable if you are in the middle of some task.
Set your Mac Visibility to Everyone
If you have not set your Mac visibility to Everyone then also the AirDrop not Working issue will occur. To fix the issue you need to set your Mac visibility to everyone. You can adjust this by following these steps:
Open the Finder and type AirDrop.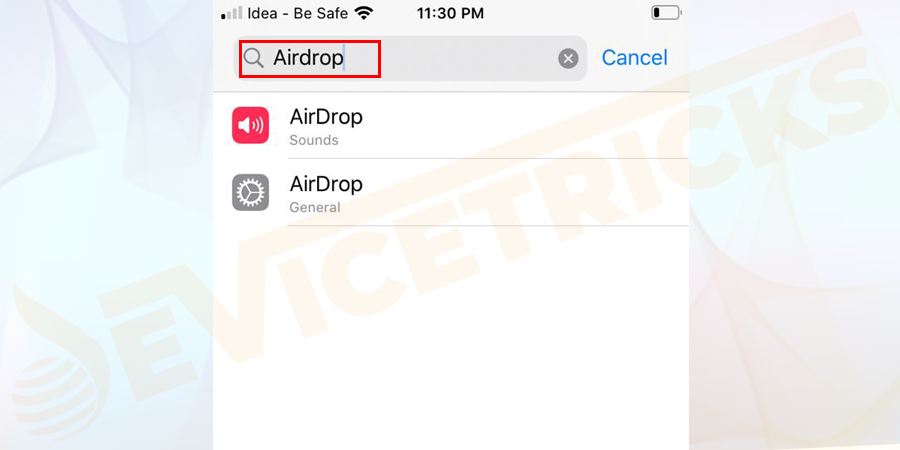 Click on the arrow next to Allow Me to Be Discovered By at the bottom of the screen and select Everyone from the drop-down menu.
If you have selected the option Contacts Only then make sure that the other party's contact details should appear in your Contacts app.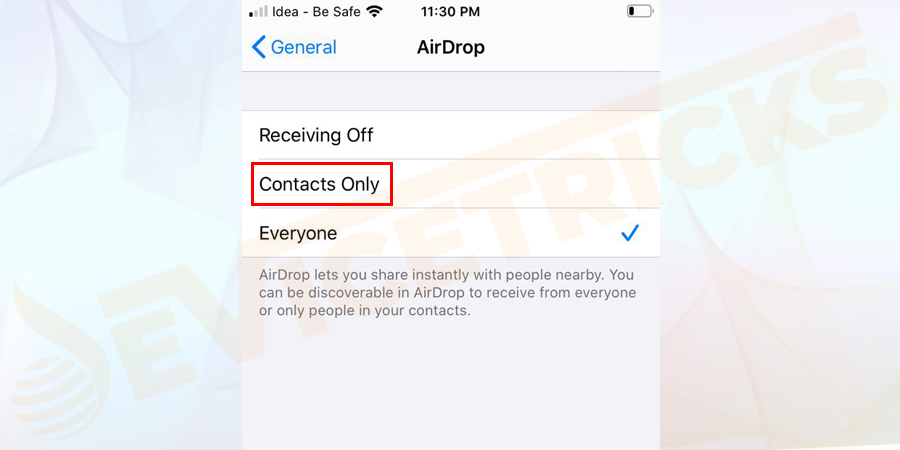 Sometimes, the Contacts Only option doesn't work properly even all the required details are present. Make sure both parties should appear in each other's Contacts apps.
Disable Wi-Fi and Bluetooth Manually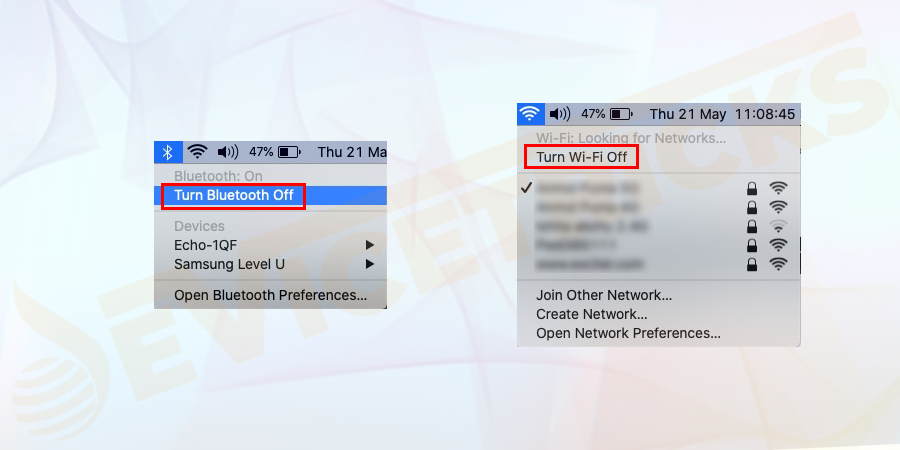 Sometimes, either one of your Bluetooth or Wi-Fi is misbehaving or not enabling properly. In that case, turn it OFF and ON again. Click on the relevant icons in the menu bar at the top-right of the screen, to do so. Once you have turned off both Wi-Fi and Bluetooth, again turn them ON, and check for the error.
Connect to the Same Wi-Fi Network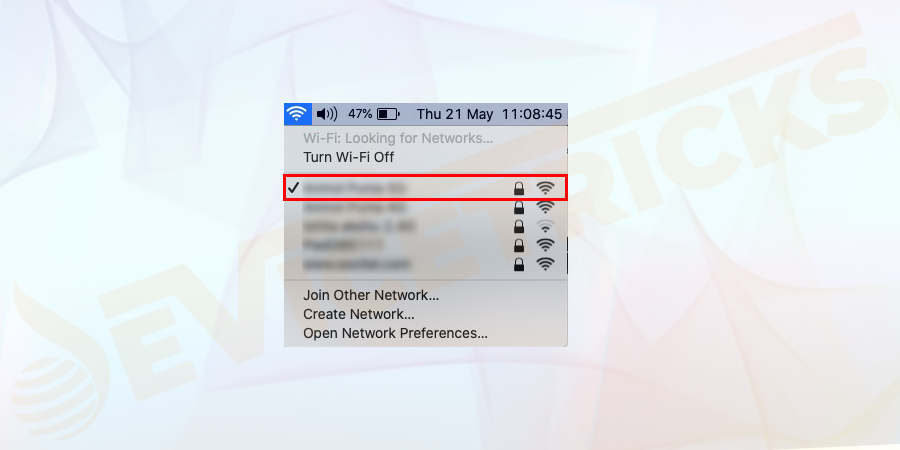 Apple states that the same Wi-Fi network is not a prime requirement to transfer files on AirDrop. However, many users reported that when devices share a network then the results are far much better. So connect both the devices to the same Wi-Fi network, if possible, and then try again to transfer the files.
Disable Do Not Disturb
If you have enabled the Do Not Disturb mode then it may interfere with AirDrop as it makes your Mac invisible to other devices. To disable it follow these steps:
Open the Notification Center.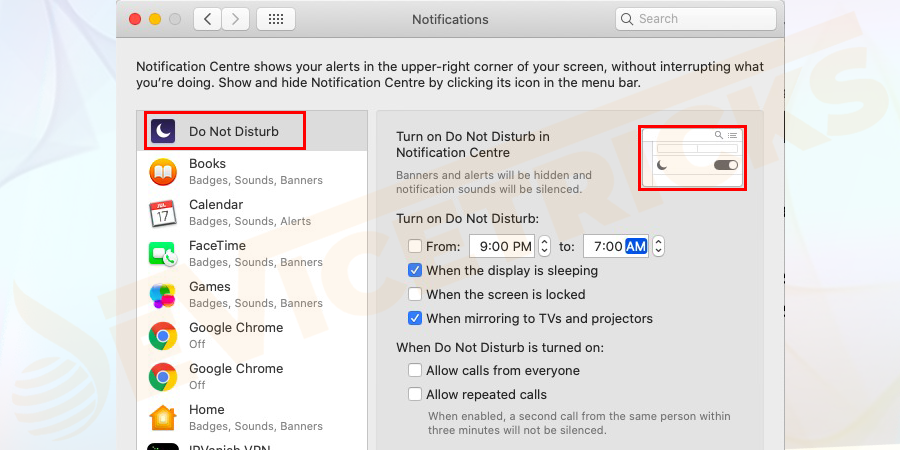 Click on the Today tab, scroll up, and then toggle-Off  "Do Not Disturb".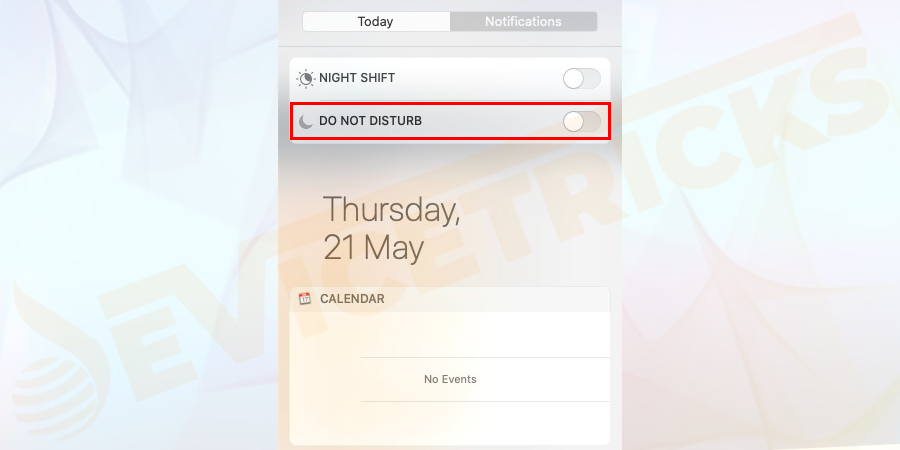 Open AirDrop in Finder
According to Apple, if your Mac runs OS X Mavericks or earlier, you need to open Finder and click on AirDrop in the sidebar to transfer files. In the later versions of macOS, you need not adopt this method. However, you will get the best results if you open the AirDrop window before starting the file transfer.
Restart Bluetooth with a Terminal Command
If that doesn't work, you can restart your Mac's Bluetooth service with a terminal command. This can solve visibility and transfer issues.
Open a new Terminal window, and then type the following command and press Enter.
sudo pkill blued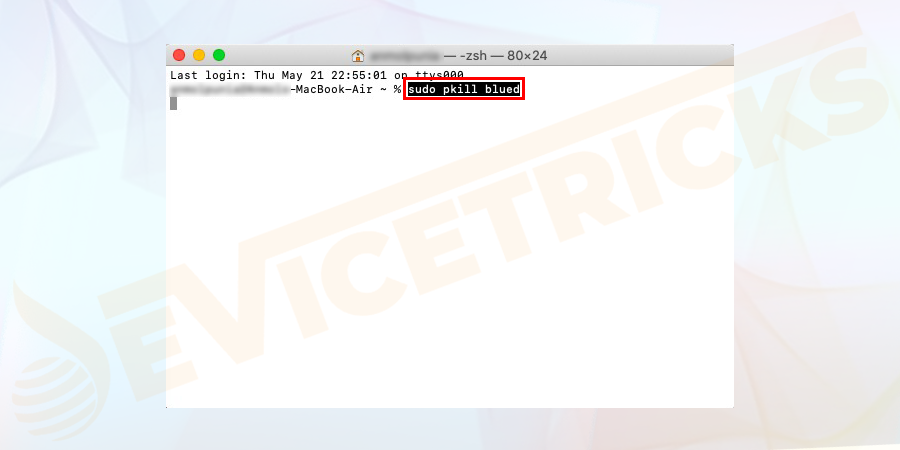 Type your admin password or use Touch ID and then press Enter.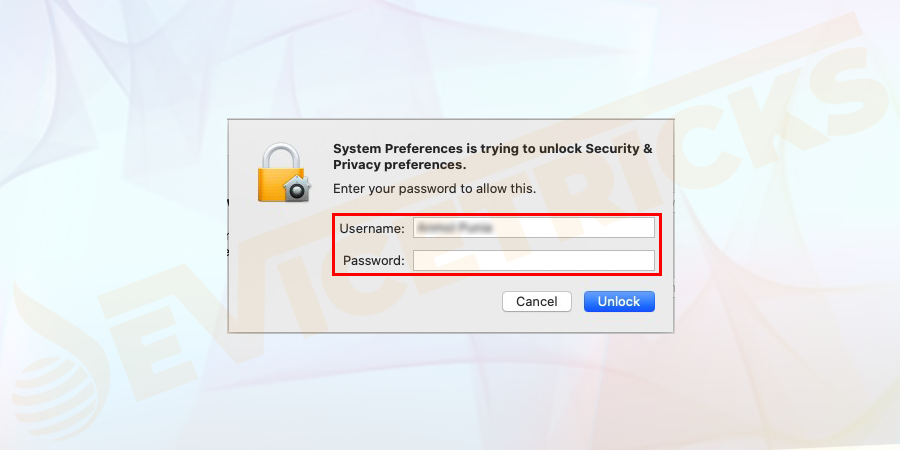 The Bluetooth service will restart instantly and removes any other Bluetooth connections you have already opened.
Disable "Block All Incoming Connections"
If you are using the inbuilt firewall that comes with macOS then it might be blocking incoming connections. To fix the issue of AirDrop transfers fail you need to disable this setting. To do so follow these steps:
Go to System Preferences.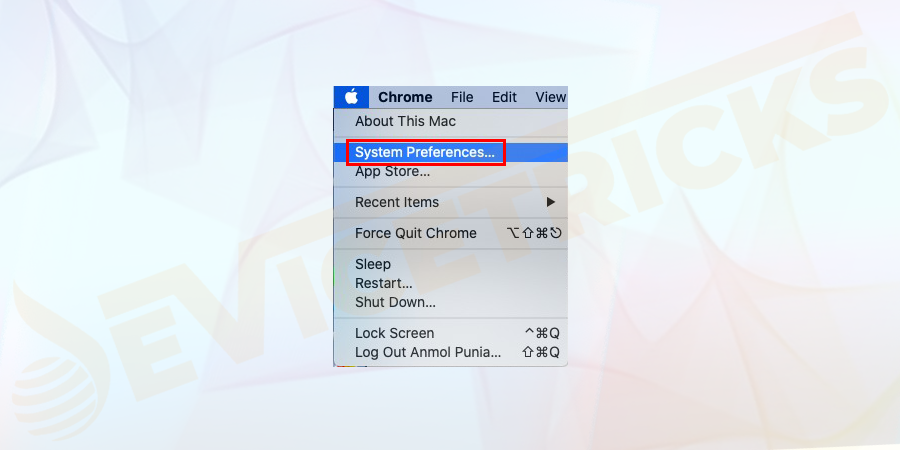 Navigate to Security & Privacy.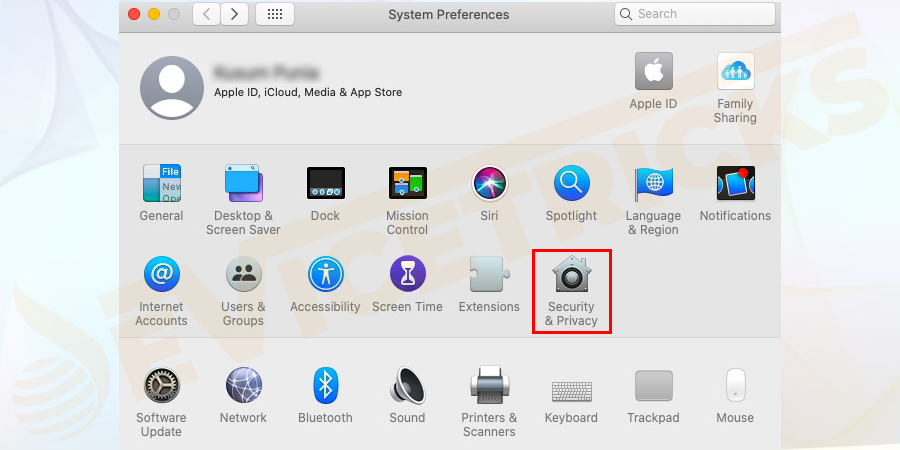 Click on the Firewall tab and set the Firewall to Off.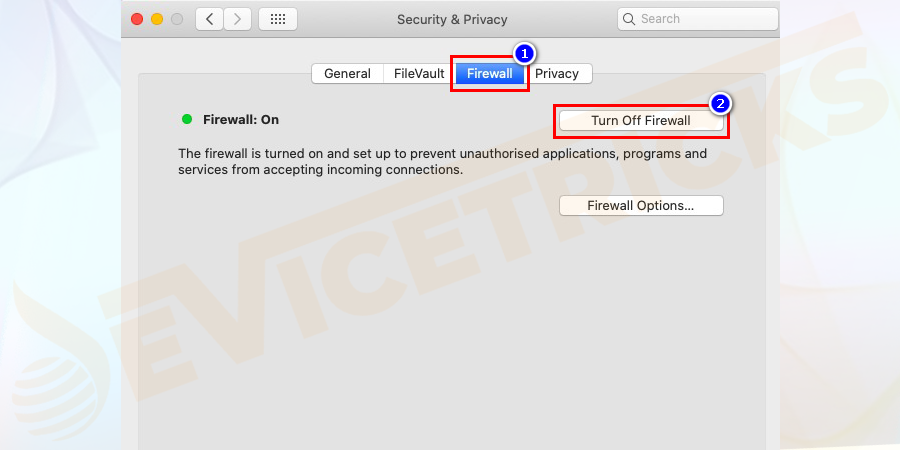 For this click on the lock and then type your admin password or use Touch ID.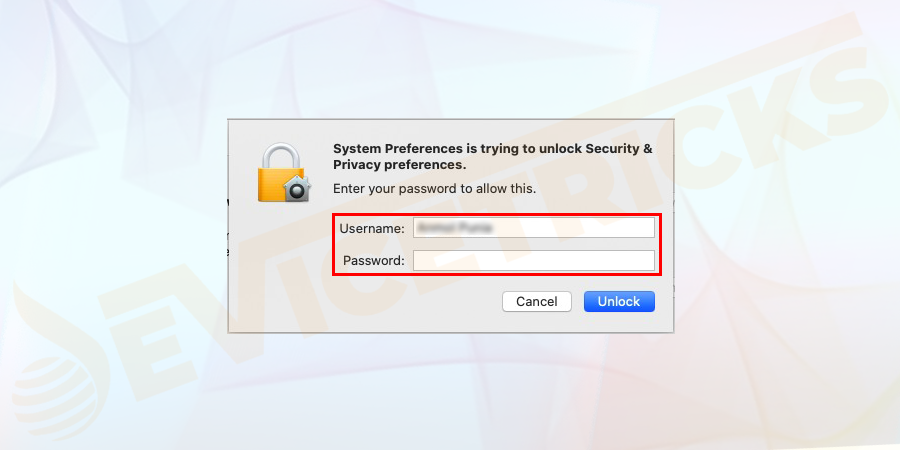 Click on the Firewall Options.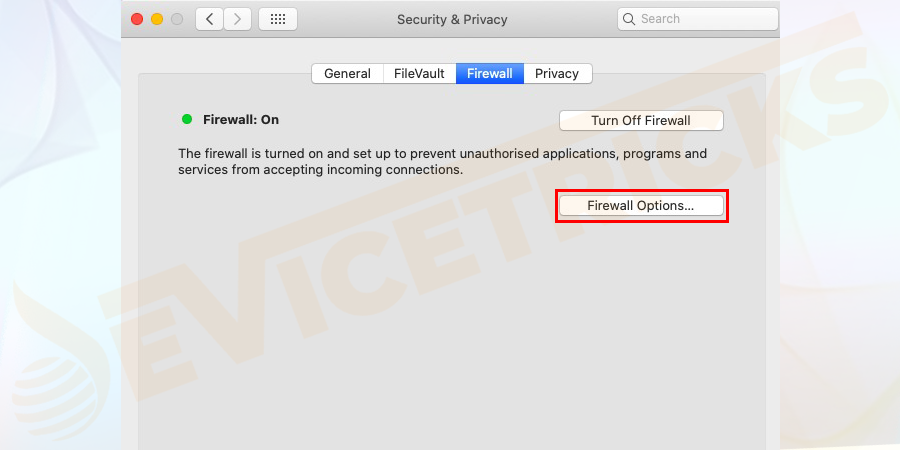 A new window will open and uncheck the checkbox next to Block All Incoming Connections (If checked). Click on the OK button to save the changes and then check for the error.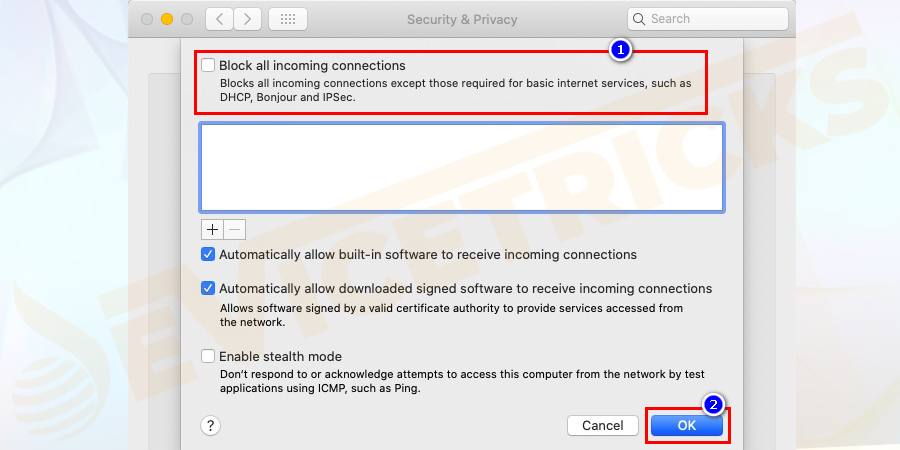 Note: If the box is already unchecked, this solution will not help you out.
Reset Network Settings
Firstly, launch System Preferences and click on Network.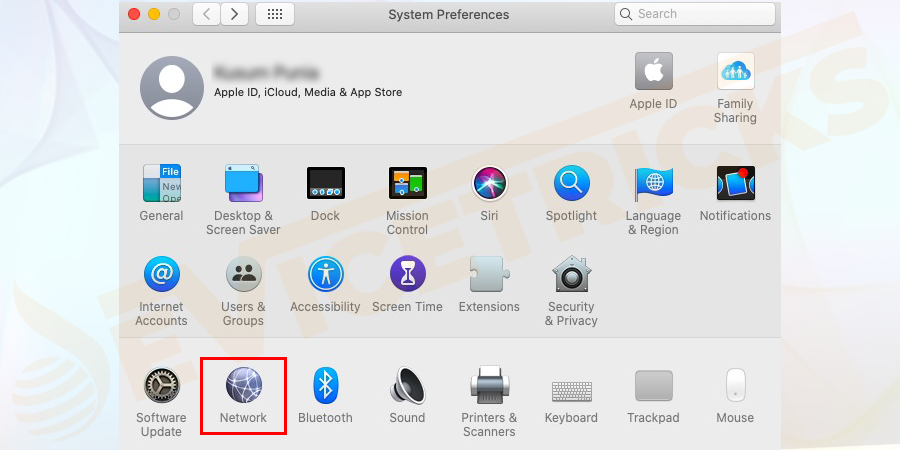 Now click WiFi in the list and click on advanced.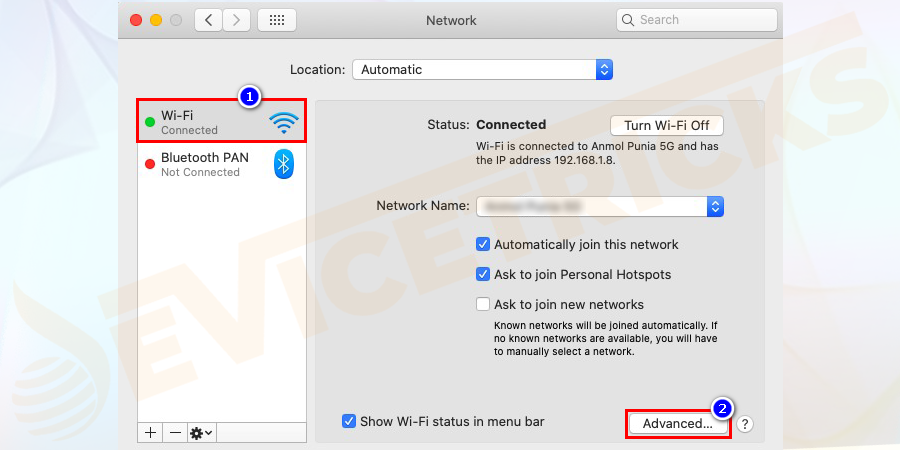 Select the network you want to forget and click on (-) to remove it.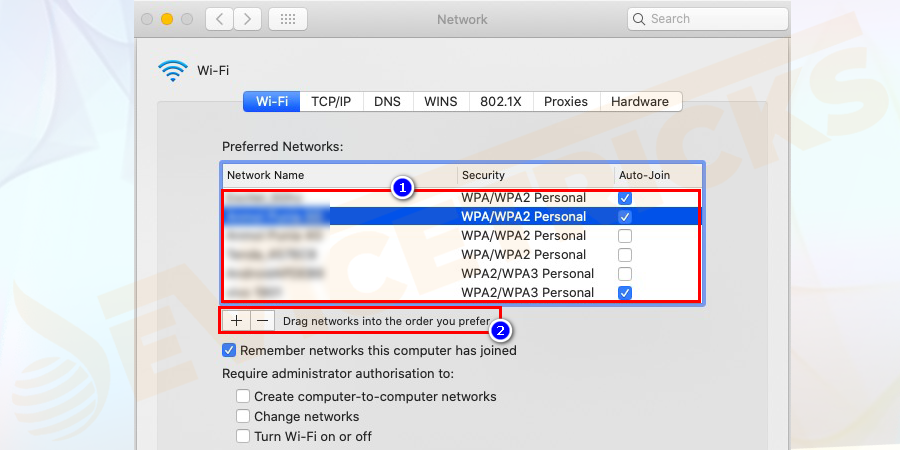 Lastly, now reconnect to the WiFi network on the Mac.
Change the Device Name
Mostly, do not use special characters and spaces in the name of Mac. For example, #, (, % etc. If you have used such characters then you need to rename your device. This may help to solve the issue of AirDrop not working on Mac.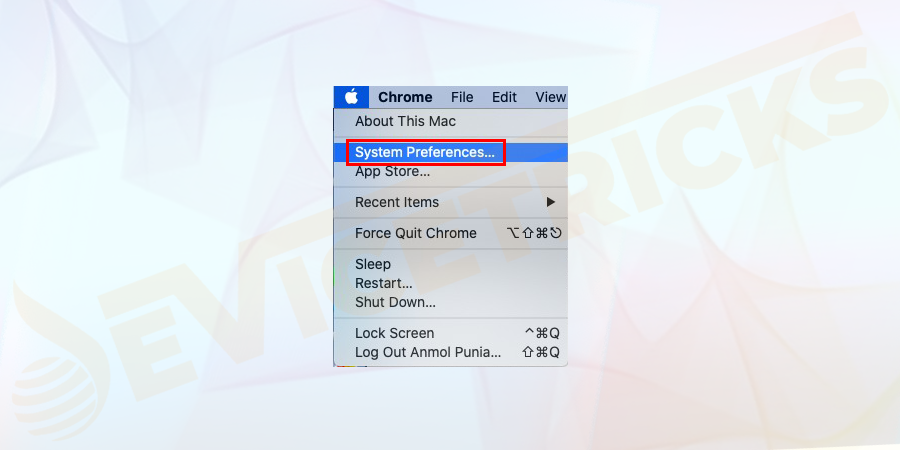 Go to the

 Sharing option.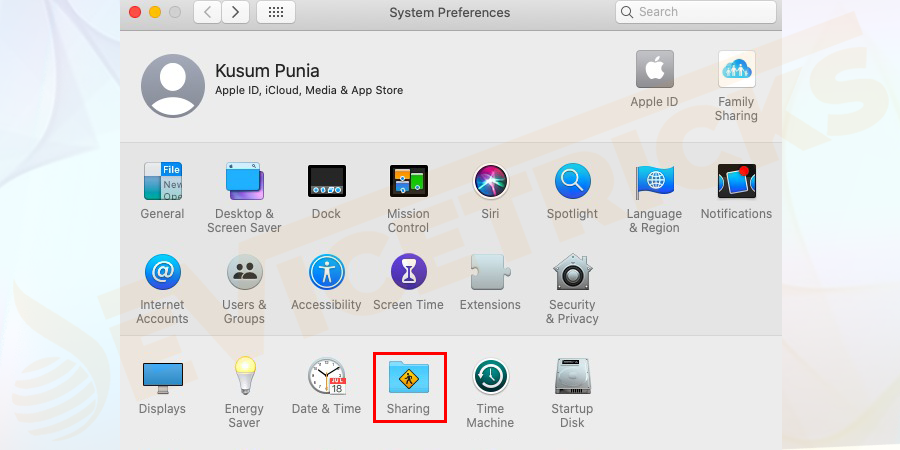 Click on the

Computer Name and click on Edit to Change.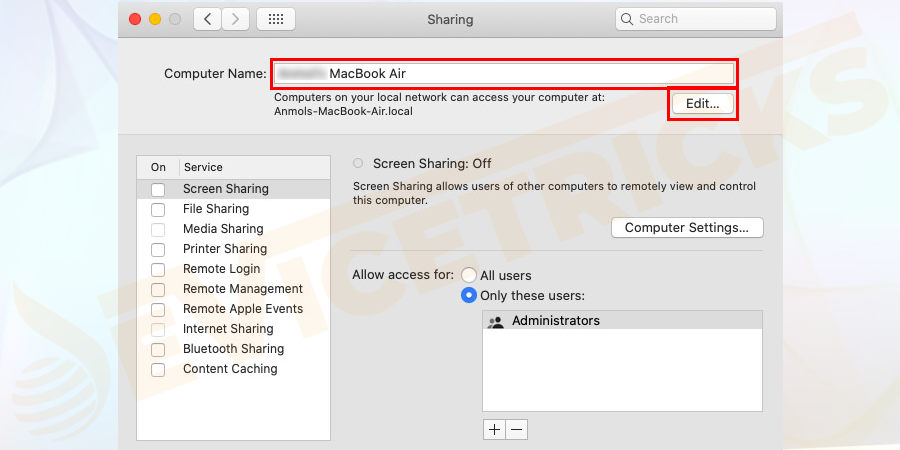 After the name change, restart your Mac and try to connect to AirDrop. This will work with Mac that has an issue with special characters.
Update macOS
You might be aware that if your Mac is running an outdated version of macOS then the chances for the occurrence of such issues are more. You should keep your device up to date to its latest build if you want to minimize the software issues.
AirDrop is irritable and if you are trying to send files or data to your brand-new iPhone 11 then you may face this issue.
Before proceeding for an update it is recommended to take back up of your Mac with Time Machine and then move to System Preferences.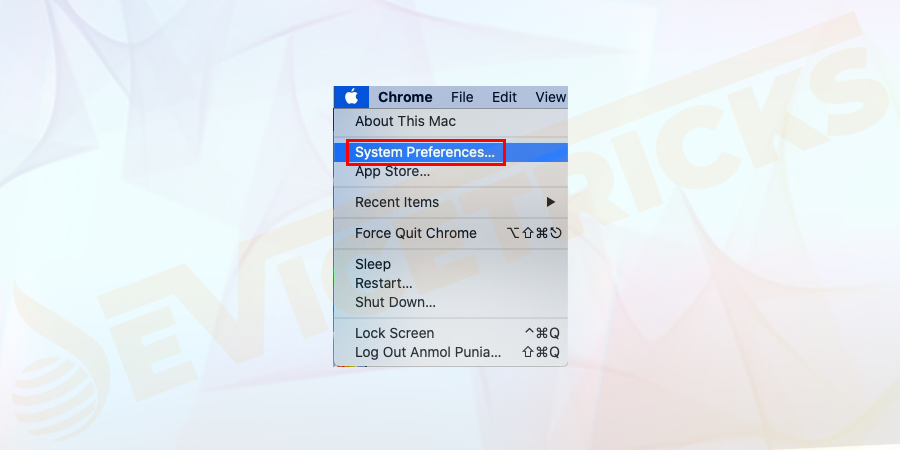 Further, go to Software Update.
Now install all available updates.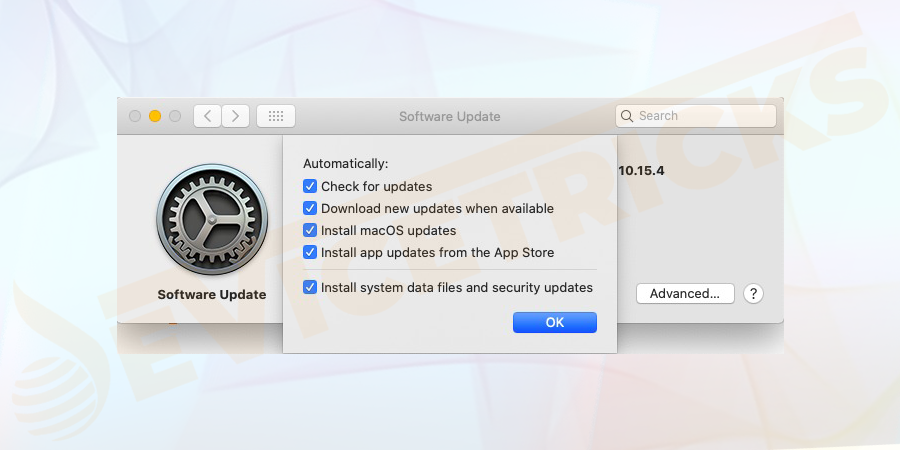 Or if you are running an outdated version of macOS then open the App Store and search for macOS, and then download and install it.
How to Fix the issue "AirDrop not Working" on iOS?
Try starting the below solutions to fix AirDrop not working on iOS
Allow Everyone to Send Files
Open

Finder

on iOS and c

lick on the Go menu and select AirDrop.

A new window opens, click on the Dropdown arrow which is next to

Allow me to discover by

and then select

Everyone

.
Turn Off and On the Wifi and Bluetooth Services
Open

Settings

→

WiFi/Bluetooth

and turn off the

WiFi/Bluetooth.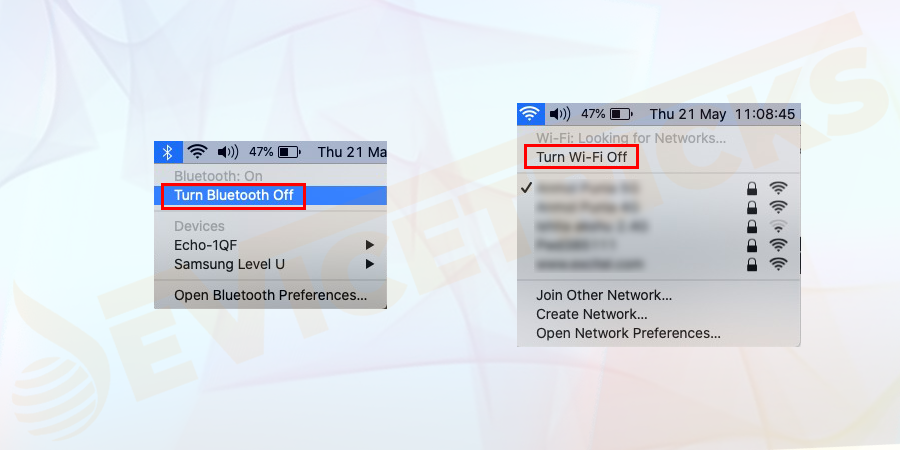 Finally, restart your device and switch on WiFi, and Bluetooth. Mostly, this solution will fix the issue else try the below solutions.
Reset Network Settings
Disconnect the device from the WiFi network and then try to reconnect it. For this,
Open

Settings and click on the WiFi option and click on the symbol in the last.
Now click on the option Forget this Network

and press

Confirm

.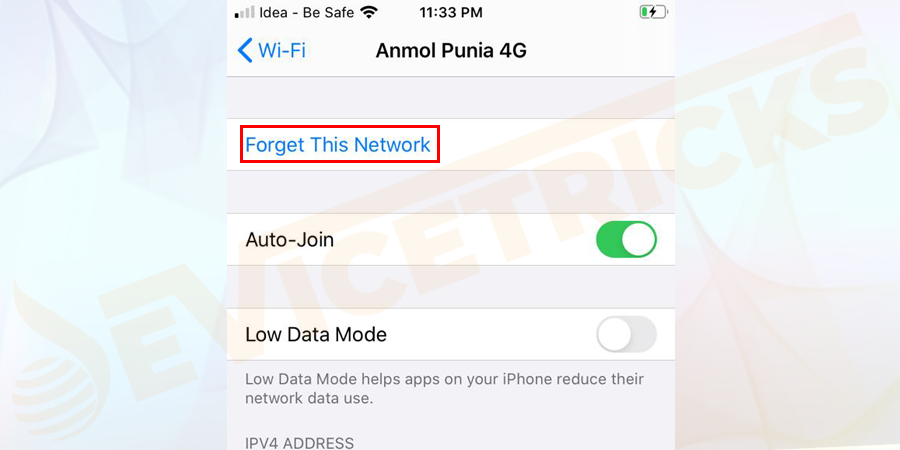 If this doesn't solve the problem, then reset the network.
Initially, launch the

Settings on iOS → General → Reset option.
Click on the Reset Network Settings and Confirm.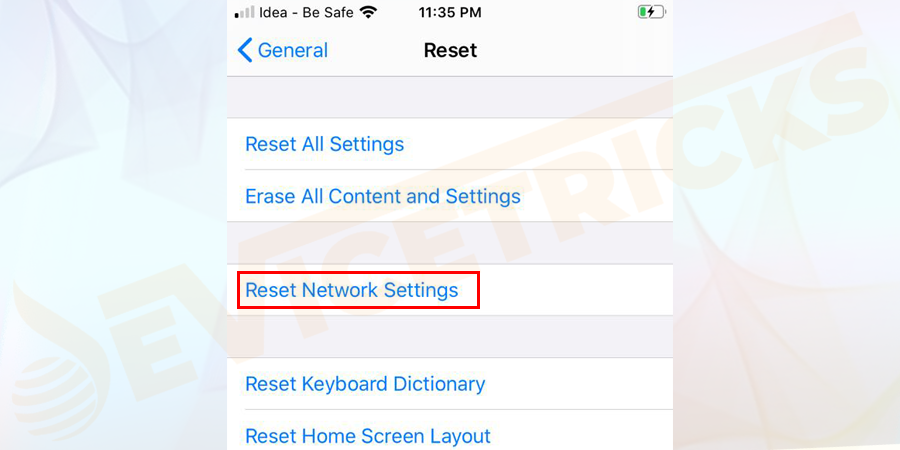 Don't Use Special Characters
Mostly, do not use special characters and spaces in the name of the iPhone. For example, #, (, % etc. This may help to solve the issue of AirDrop not working on iPhone.
Open Settings and

navigate to the

General.

Click on

About.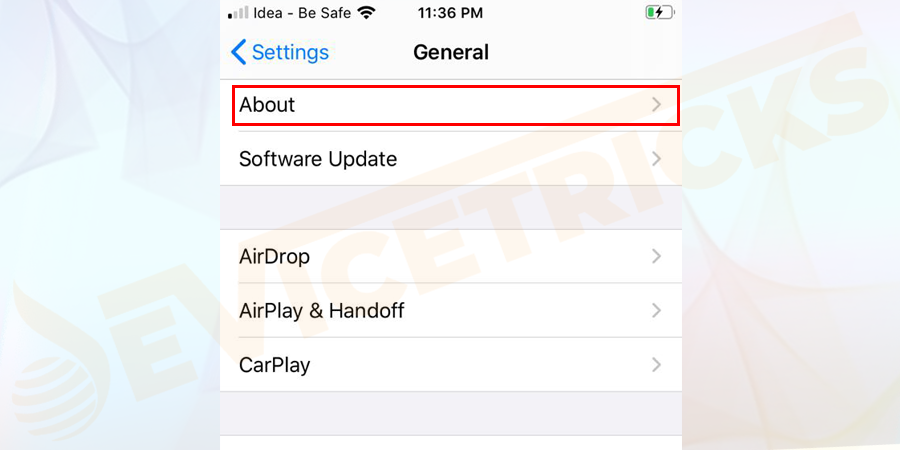 Choose

Name and click on Edit it.
Finally, once you change the name of the device, reboot the device and check if the issue is resolved.
Update Sofware
If still, the problem remains the same, then go for a software update. Apple's operating system always brings fixes to the bugs through updates. So, as it is better to go for an update for this AirDrop issue.
Open Settings on iOS
Click on General

→

Software Update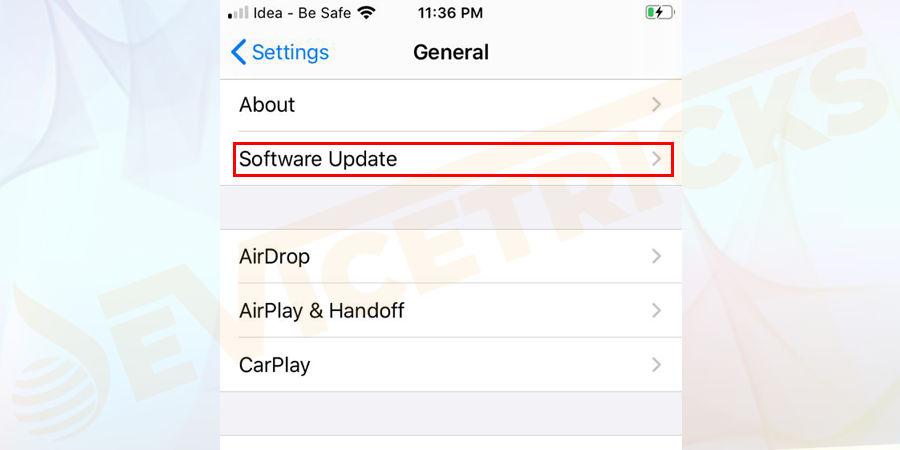 Download and install software into the device.
Conclusion
The above all are possible solutions for fixing AirDrop not working issue. Still, you have any more queries or suggestions you can contact us and visit our website for step by step guide for the errors related to Windows and Android. If you feel this article helpful then you can show your love by sharing and following our Facebook page. Don't forget to give your feedback in the comments section.