We recognize many persons pass away without leaving any obvious instruction about how to manage their online accounts. In some definite circumstances, Google can provide content from the account of the deceased person. The main responsibility is to store the information, maintain privacy, and secure the account of the deceased person. Google don't give any details or password. Any final decision to satisfy a request about a deceased user is made after a careful review. All the necessary details are required by you to delete a Google account.
Service: Google provides a web-based search, e-mail, business, mapping, and video service. Here is a complete overview of how to manage the account of any users after their death.
How to delete a deceased user account
?
Required information
Username

Password
Google account is one of the most important accounts that the user utilizes today. It is clear that any company doesn't provide the password or log-in information for an account. In some cases, Google provides content from a deceased user account. And the important thing, Google ask what you want to do with the deceased user account, it also offers some choices:
Close the Google account of the deceased user.

You can submit a request for funds from a deceased user's account.

Obtain data from a deceased user account.
If you request, Google will ask to fill the form, also ask them to fill out the necessary information about the deceased user such as name, e-mail, the relationship to deceased user and ID proof. If you select the third option, Google asks the person to agree that if the request to get details from a deceased user's account is approved, they will have to get court order issued in United State.
Deleting Process of a Deceased User Account
Deleting a Google account usually affects all products with that account containing Gmail, Google drive, You-tube, Google plus and Google play store.
Log-in to your Google account and click on the account icon on the top right corner. Select privacy under it or

click on this link

this will redirect to the page.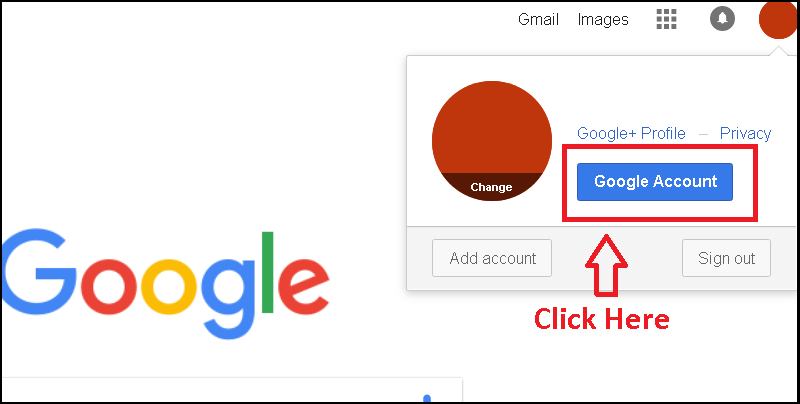 Under the account preferences section, click on delete your account or services option.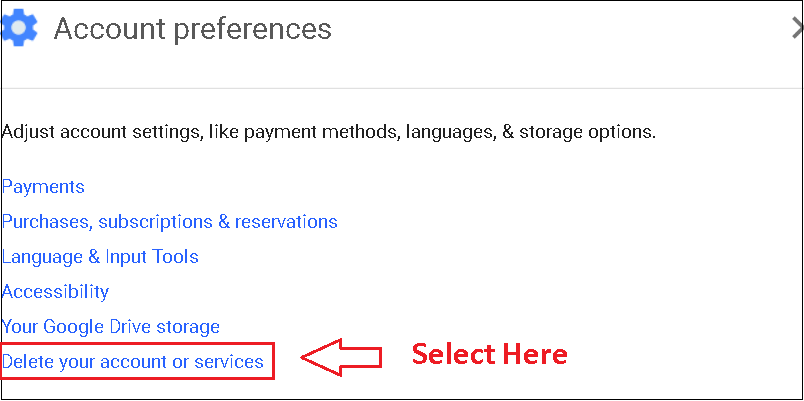 On the next page, choose to delete Google account and data option.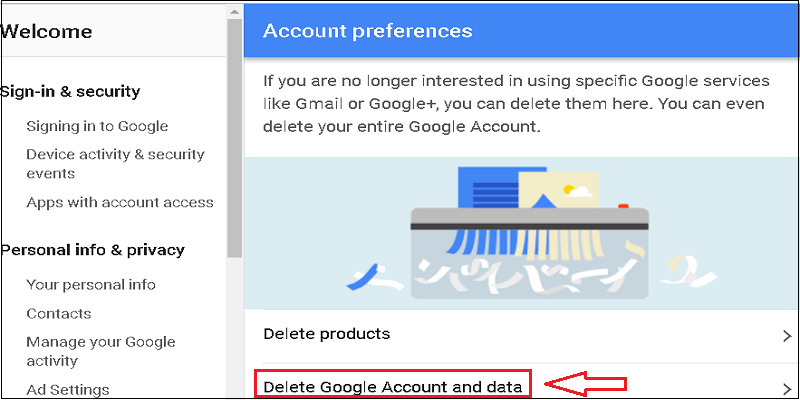 Finally, you will come up with instructions; you have to read them all clearly as it explains what are the things will go through this account deletion.
You have to uptick the two checkboxes and lastly click on the delete account button.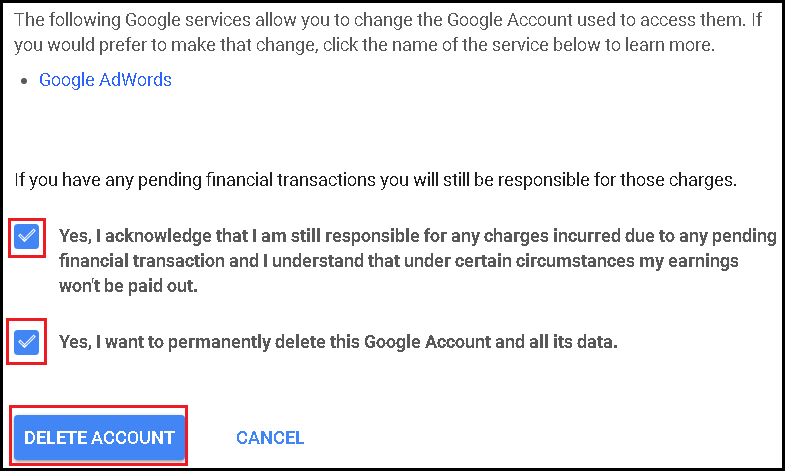 As a result, you have successfully deleted your account and all the data, transactions related to your Google account.
Inactive Account Manager
It is worth to point out that Google provides "Inactive account manager" service, using which account holder can opt to have trusted friends or family to send an e-mail in the occasion of their account being inactive for some time. The individual account holder is able to choose data sharing with trusted people. In that case, the mail contains a link from the type of content, as described by the account holder, may be downloaded. An inactive account manager is a way to share or delete your account after a set period of inactivity.
Setup your Inactive Account
Initially sign into your Google account and later

click on the link

.

On the page click on the start button.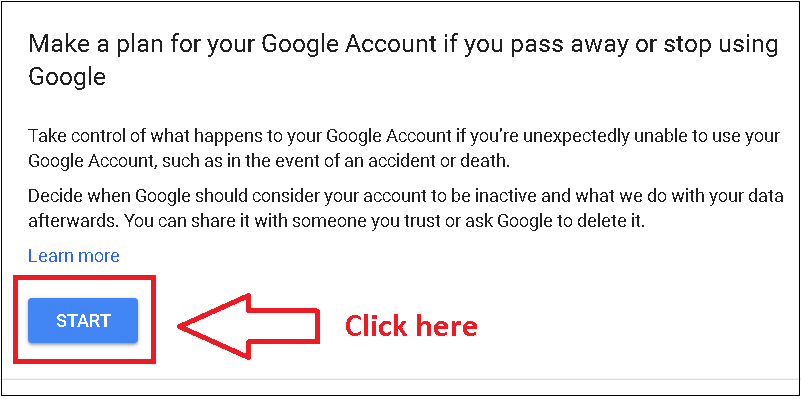 On the next page, usually, it is set to "after 3 months of inactivity", if you want to edit by clicking on the edit option parallel to the option. You can choose in between 3 to 18 months and click on save button.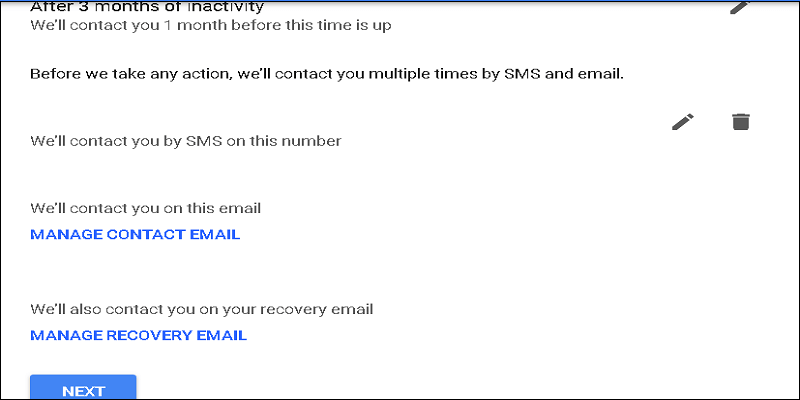 Under it, you will have an option to add a phone number, if you want you can add your number. It notifies to your number about your account inactivity. On the pop – up window use existing Gmail account mobile number or else you can add another number for Gmail account inactivity notification.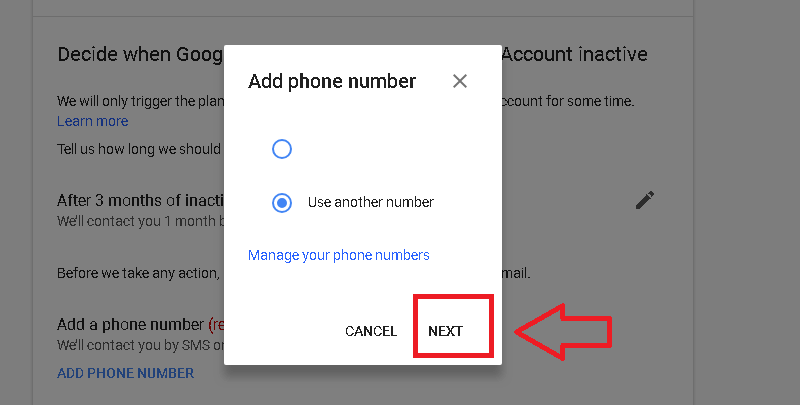 If you have not added your recovery email, you can add it and it sends an alert to that email.
Click on the Next button as shown in the figure.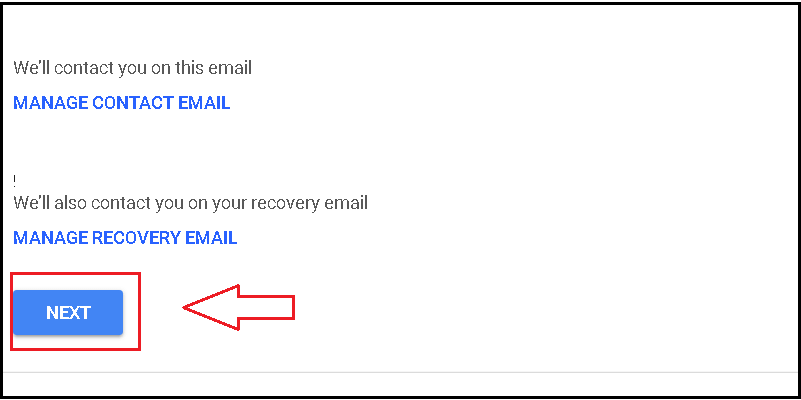 On the next screen, click on the add person to add the Gmail ID of the person. This will help to notify the person and can give access to some of your data. In this option, you can add up to 10 Gmail accounts.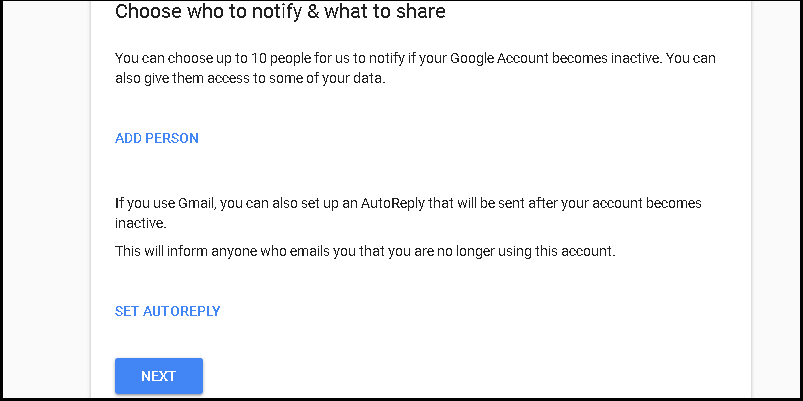 If you want you can set auto-reply option that will send to persons who emails you after account inactivity. You can add subject and message as you wish.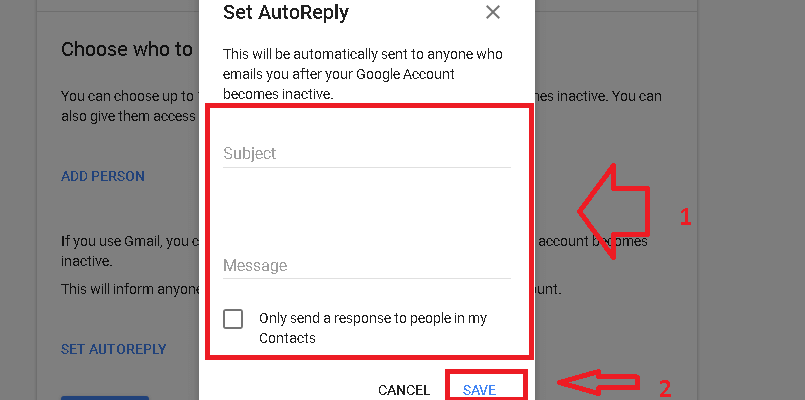 After adding Gmail accounts and auto-reply message, click on the next button.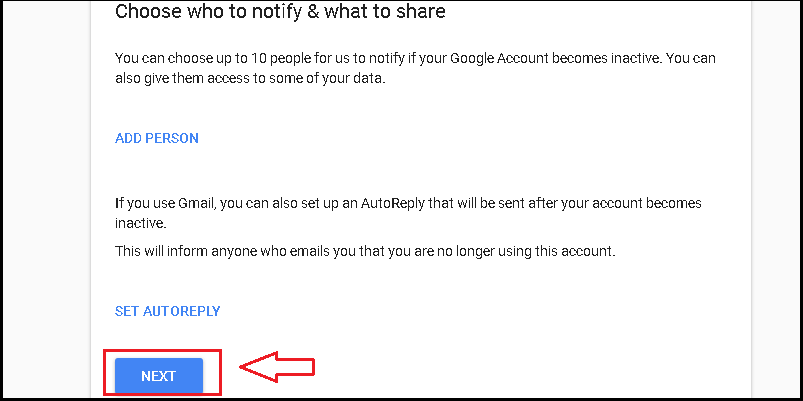 If you want to delete the account after inactivity, you can click on the toggle to turn it blue. The blue toggle represents that the account will delete automatically after your inactivity.
Finally click on the review plan, to see the changes and requirements you have added to the account.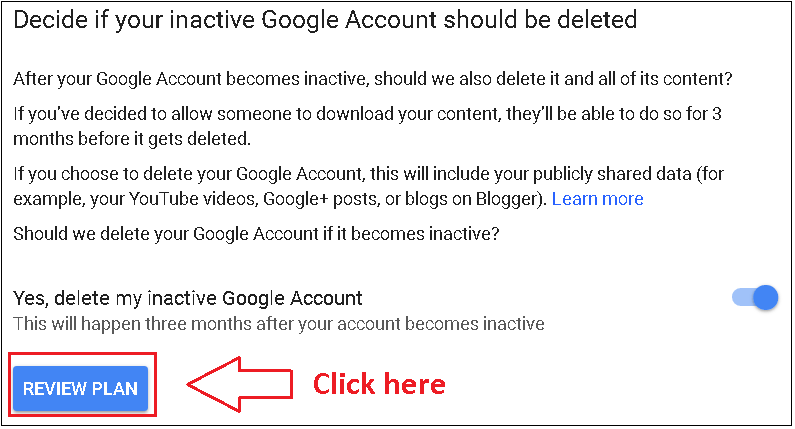 Last but not the least click on confirm plan option and this option will delete your account and data permanently.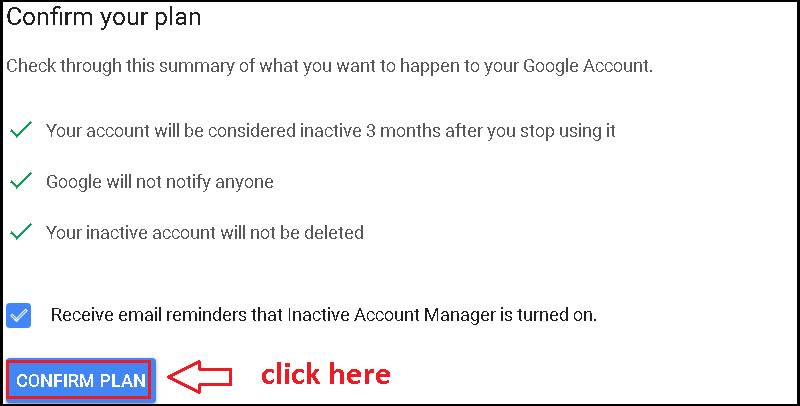 Here is how they define it about a deceased User Account
What would happen to your pictures, e-mails, and documents if you stop using your account? Google puts you in control. Using an inactive manager you can decide when your account is to be inactive.
Timeout period–you need to set a timeout period from a minimum of 3 months to a maximum of 18 months, after which your account can be inactive. The timeout period begins with your last sign–in to your Google account.

Alert me–inactive account manager will alert you via e-mail and text message before the timeout period ends.

Notify contacts and share data–you can add trusted contacts that need to make aware that you are no longer using your account. If you like, you also share data with them.

Options to delete the account–if you wish, instruct Google to delete your account on your behalf.
To set up the inactive account manager, go to settings page, press data tools button and then click "set up inactive account manager". If you feel this article helpful please like, share and follow our Facebook page and keep visiting our website for such articles.