Before exploring the solutions to fix "Device not migrated on Windows", you need to know, "What is device migration in Windows" and what are the causes of "device not migrated on Windows 10".

What does the "Device not Migrated error" mean?
Device migration is an automatic process to move data from one device to another device using windows operating system. On average, the device migrations process transfer around 1TB of data per day, but the data transfer speed is not constant. It depends on devices.
Causes behind "Device could not be Migrated" error
You were using an older version of Windows and then updated with windows 10 or installed Windows 10 operating system by removing the older one.

You have installed 2 operating systems on the same device.

Some installed driver is not compatible with your operating system

Some important OS files have been damaged and need to repair or reinstall.

The peripheral device is not supported to the latest version of the operating system i.e. Windows 10.

PnP (Plug and Play) feature is not compatible with your latest version of the Windows.
Where to see the error message of "Device not Migrated" on Windows 10?
The error will not pop up on your screen. Instead, you need to manually check the issue of not migration. Follow the below steps to check whether your connected device is working or not.
Hover your mouse cursor to My PC, right-click on it and then click on

Manage

listed in the drop-down menu.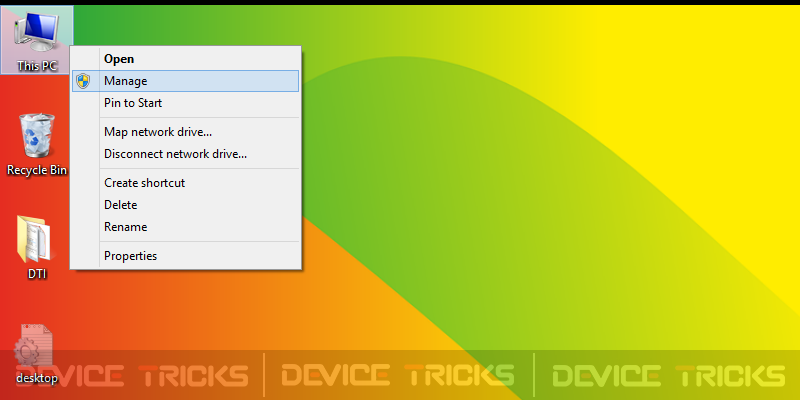 Now click on "Device Manager". You can see the list of all the required drivers there.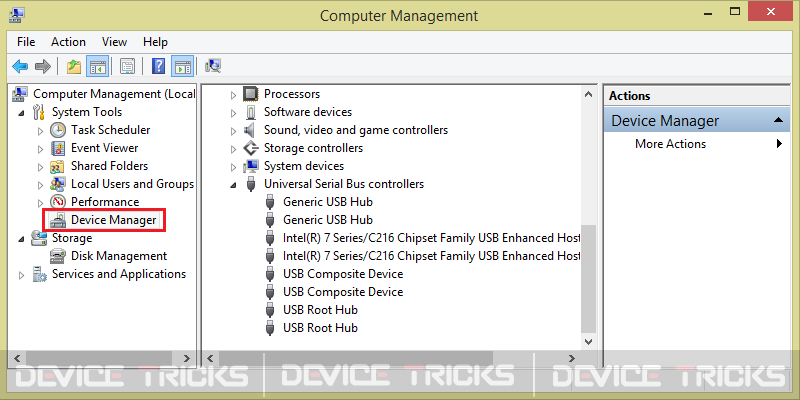 NOTE: You can press the Win+R key and then type devmgmt.msc and hit enter to open the device manager window directly.
Now select the driver which is not working properly.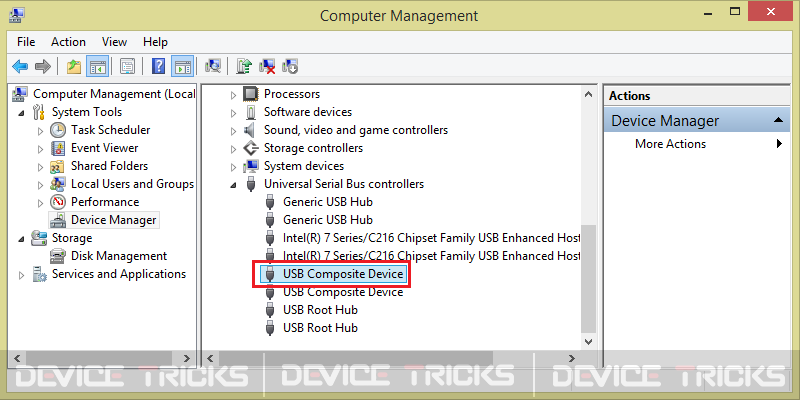 After this right-click on the selected one and then click to properties.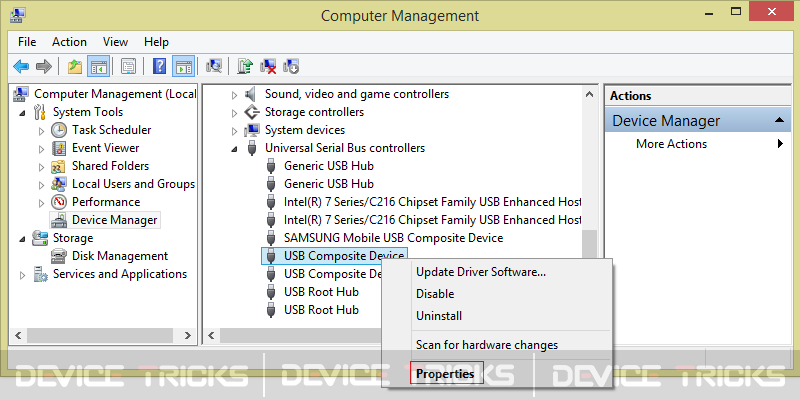 Now click on Events, and then you can see the message "Device not migrated" in the below box.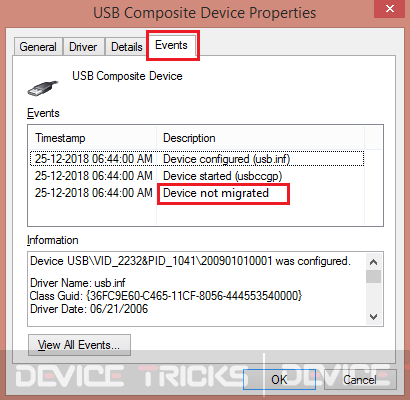 Solutions to Fix Device not Migrated Error on Windows 10
The error of "device not migrated" also known as "was not migrated due to partial or ambiguous match" or "Device not migrated on Windows 10". Here, we are going to share the easiest solutions to fix the device migration issues. So, follow the below steps to fix the migration issue.
Solution 1: Try different ports to connect your USB Device
Due to some moisture and improper use of USB ports, it may not work properly and hence can show you the error of "was not migrated due to partial or ambiguous match" or "device migration error".
In this case, you can plugin in and try with some other ports available in your system. To make sure whether your USB ports are working or not, you can check by inserting some other working pen-drives or USB devices. If it's working properly then the problem exists in your current device and you need to look for other solutions which are given below.
Solution 2: Automatically Update the Driver Causing Issue
Right-click on Computer icon given on your desktop and then choose "

manage

".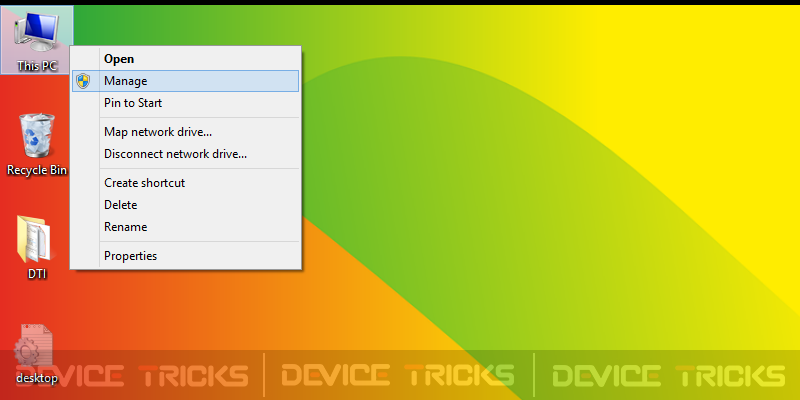 Now click on "Device Manager" to see the list of drivers installed in your system. You can even use the short key to open the Device Manager window directly by pressing Win+X+M keys.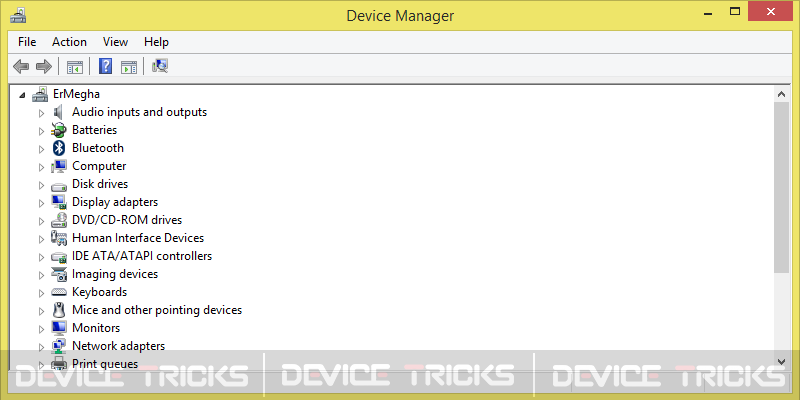 Now right-click on the driver which is affected and then click on "Update Driver Software".
In the next window, choose the option "Search automatically for updated driver software". Make sure, you have an active internet connection in your system. The device will be updated automatically by fetching the driver updates from its cloud storage.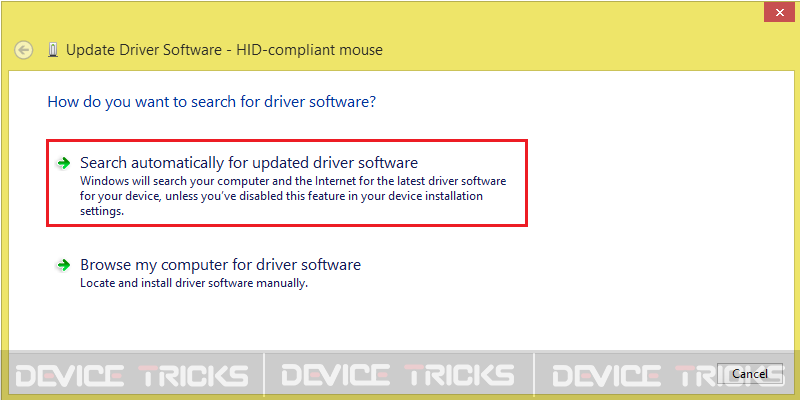 Solution 3: Manually Update Your Chipset Drivers
Sometimes, if your chipset drivers are not updated, it will pull you to perform the task normally. The outdated Chipset Driver is one of the causes to show you "device not migrated" error.
So, follow the steps to update the driver for removing "was not migrated due to partial or ambiguous match" error from windows 10 operating system.
Open 

device manager

 by pressing 

Win+X

 and then 

R

respectively.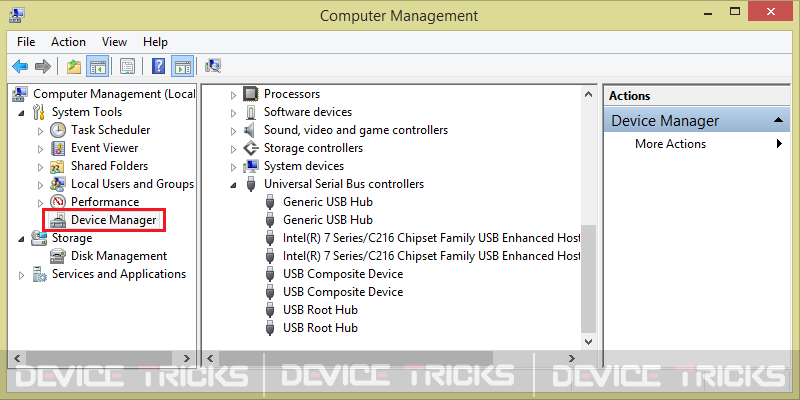 Choose the device which is giving you trouble and then right-clicks on it and press on "Update Driver Software".
A pop-up window will be opened with two options. Choose the second one i.e. "Browse my computer for driver software". It will allow you to browse the location where you have saved the execution file of this particular driver.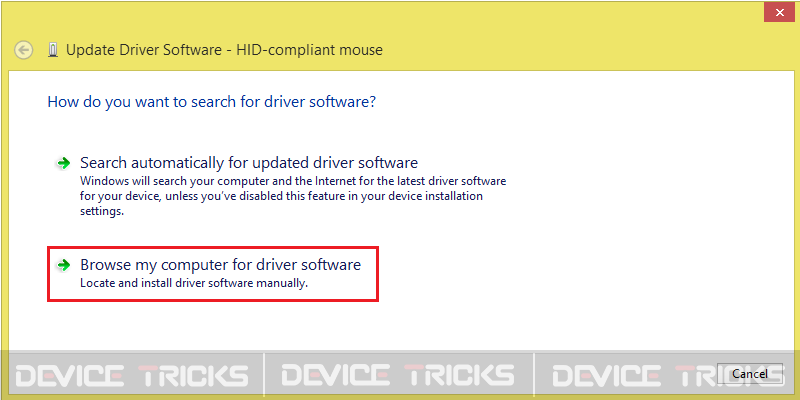 Now choose the location of your .exe file by clicking on the Browse button and check on "Include subfolders". It will fetch the driver execution file automatically from there. Now you need to click on the Next button and then relax. Your chipset driver will be updated in a few minutes.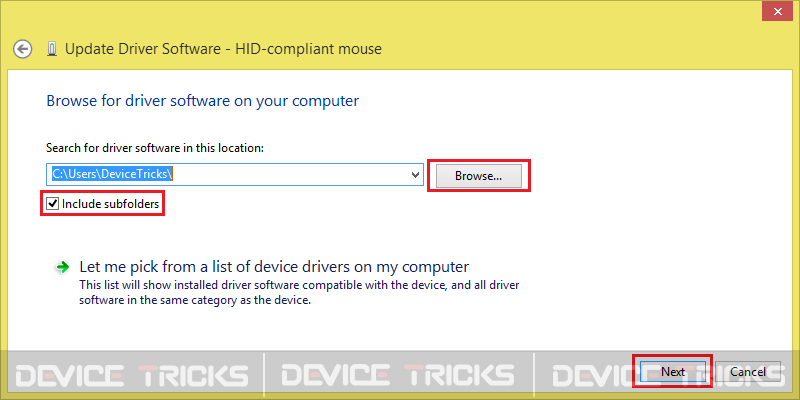 Solution 4: Disable & Enable the Concerned Driver
Press

Win+X

& then 

R

 key

 

to open the device manager.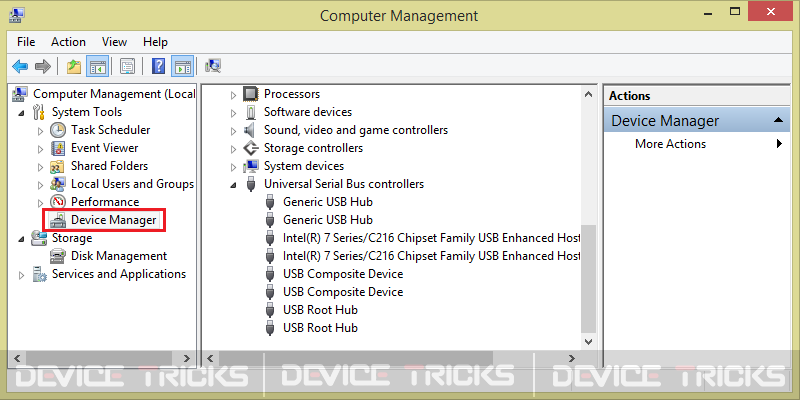 Choose the affected driver and right-click on Disable.
A warning message will be popped-up. Now click on Yes. On a snap of a figure, the selected driver will be disabled.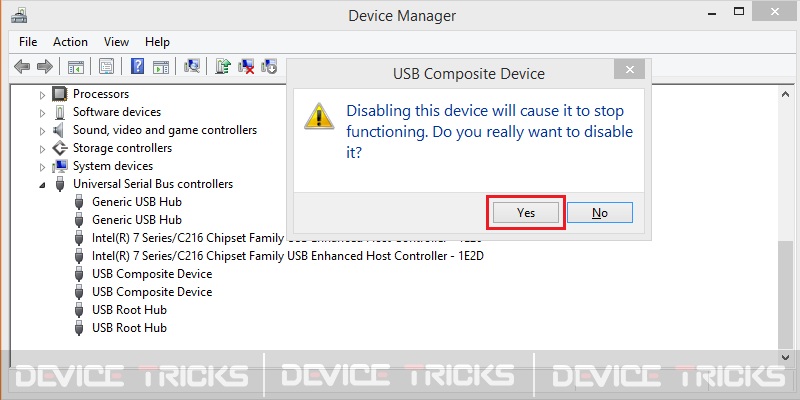 To enable the driver again, you need to follow the above similar process. Right-Click on the disabled driver and thereafter click on Enable.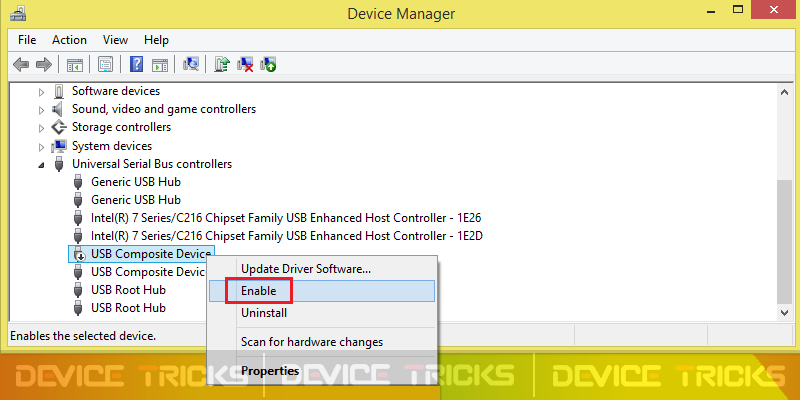 It will be enabled immediately and then it's ready to work smoothly.
Solution 5: Use Compatibility Mode to Install the Driver
If the above solutions are not working for you, you can follow the below steps to fix the issue of Device not migrated using compatibility mode installation.
Download the updated driver which is causing an error, from the official website of the brand who has manufactured your desktop or laptop.

Open the location where you have saved the downloaded .exe file.
Right-click on the .exe file and then click on properties.
Now go to the compatibility tab and check the box given besides "Run this program in compatibility mode for:" After that, choose the Windows 10 operating system by clicking on the drop-down icon and further click on Apply and then press Ok to save changes. That's it.
Solution 6: Use CMD to check for any corrupted OS Files
You might be facing the device not migrated error on Windows 10 due to damage to any operating system files. You can follow the below steps to check the damaged or corrupted files using cmd or command prompt.
Go to

Start

& then search for

Run

& then Click it. You can also open the Run Command window directly by pressing 

Win+R

keys together.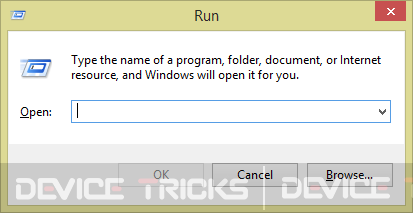 Now type cmd inside the box and then press enter to open command prompt window.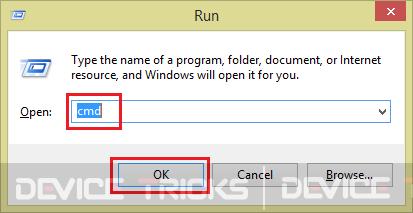 Now inside the cmd window, type the command "sfc/scannow". Here SFC stands for System File Checker. Now, the system will start scanning and then it will automatically repair the damaged file.
Solution 7: Reset your system's BIOS settings
Sometimes the issue "Device not migrated on Windows" occurs due to improper BIOS setting. You can reset the BIOS (Basic Input Output System) and then plug in your device again. It will work smoothly after resetting and updating the BIOS.
For entering into the BIOS setting, you need to switch on your system and then quickly press the F4 button (function keys may vary the system's model-to-model). After entering into the BIOS window, you need to look for the reset option and then follow the further process given there.
There are several brands in the market which are manufacturing laptops and computers. And unfortunately, it's hard for us to describe the steps of the BIOS setting for each model. So, it's better to ask customer care relevant to your system's brand for resetting the BIOS or comment below with your model number. Our windows experts will revert you with the proper solution.
Solution 8: Use OS Reset function to bring your system in the previous working state
If your problem is still unsolved, you can try this solution to fix the device not migrated issue. In this solution, we are going to take you through the steps to reset your system and make it a new OS installed device which will work smoothly with default settings. Please note, it won't affect your personal documents and files but will remove the additional installed software by you.
Press Win key and then search for 

Recovery. 

A window will be opened with three options. You need to click on 

get started 

given below the first option i.e. "Refresh your PC without affecting your files".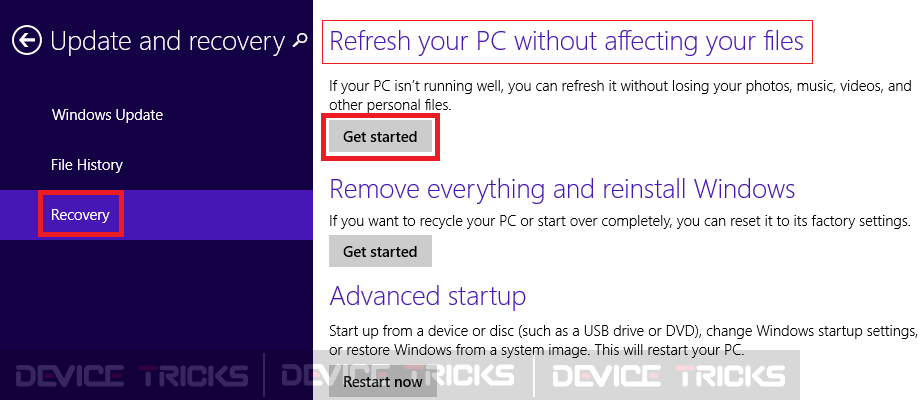 Follow the further process asked by Windows to complete the action and your Windows 10 operating system will be reset and will start working without any issue.
Final Thoughts
I hope you got success in fixing the issue of "device not migrated" or "was not migrated due to partial or ambiguous match". Please do share your feedback below and also, let us know if you have any other issues related to Windows and mobile devices. and follow our website and blogs on Facebook, Twitter, and Instagram.  We would be more than happy to provide you with authentic & working solutions to fix your problem.