Almost everyone who uses Google Chrome as their main browser might have faced Shockwave Flash has Crashed error while streaming videos.  The good news is that you can get rid of this error using the solutions given in this article. Unlike other browsers, Google Chrome has its own version of built-in shockwave flash. Your system also contains flash, both jump to the task of doing flash tasks when you are in chrome. As there are two flashes trying to go do the tasks, chrome gets confused, and shutdowns flash completely.
What is Flash?
Flash is an outdated technology used mainly for playing or streaming videos. Even iOS has never used Flash technology and Android has also removed this technology some years ago. Nowadays it is being phased out. This Flash technology will be supported by Adobe until the end of 2020.
All the websites stop using it and already started moving towards HTML5 over Flash. This HTML5 is much lighter and faster than Flash. This will increase the battery life and speed up page loading also.
Google has already disabled Flash in Chrome by default and it will ask you to enable Flash only when you are visiting a site that is not having have an HTML5.
What does the error "Shockwave Flash crash in Google Chrome" mean?
Google Chrome will handle the flash content while other browsers call upon a flash installation of the host system. If everything runs smoothly there is no problem. When Google Chrome gets updated shockwave flash also gets updated. Those updates to Chrome are causing a big problem because Chrome gets confused easily due to these updates. Google Chrome attempts to use both OS installation of flash and internal Chrome installation of flash.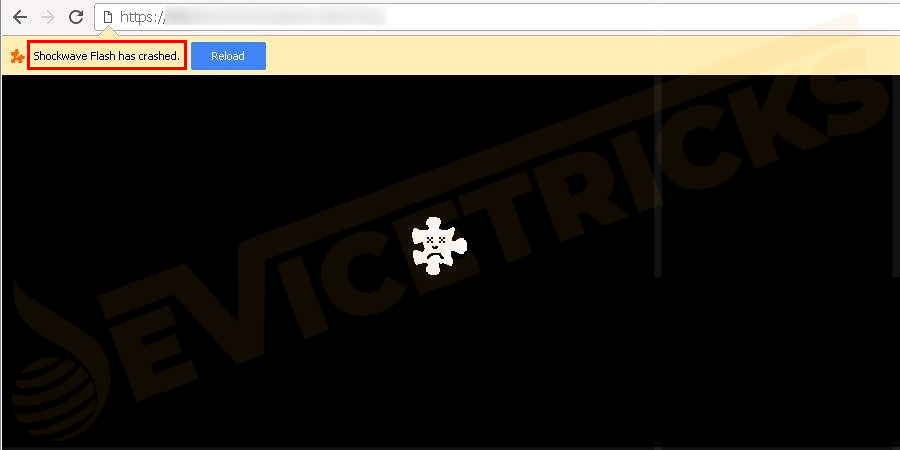 As a result, you will face browser lag, temporary lockup, browser crash of all active Flash instances, and then closes Chrome. Every website opened in your Chrome browser, which uses shockwave flash will end up with the same warning shockwave flash has crashed.

How to Fix "Shockwave Flash has Crashed" Error in Google Chrome?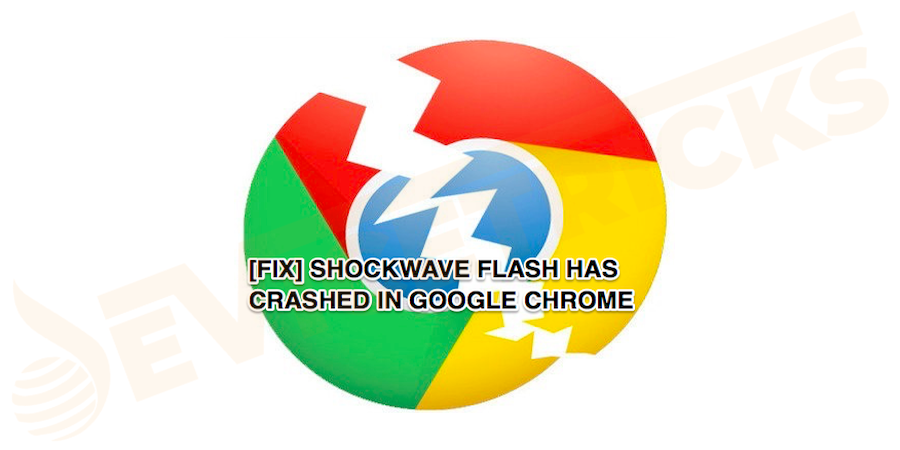 If you are facing the error Shockwave Flash has crashed in Chrome then this article will help you to fix this error. In this article, I will provide you a list of effective solutions reported by users. You need not try all the solutions listed here. Just try the solutions one by one down the list until your error has been fixed. Keep reading:
Scan for Malware or Virus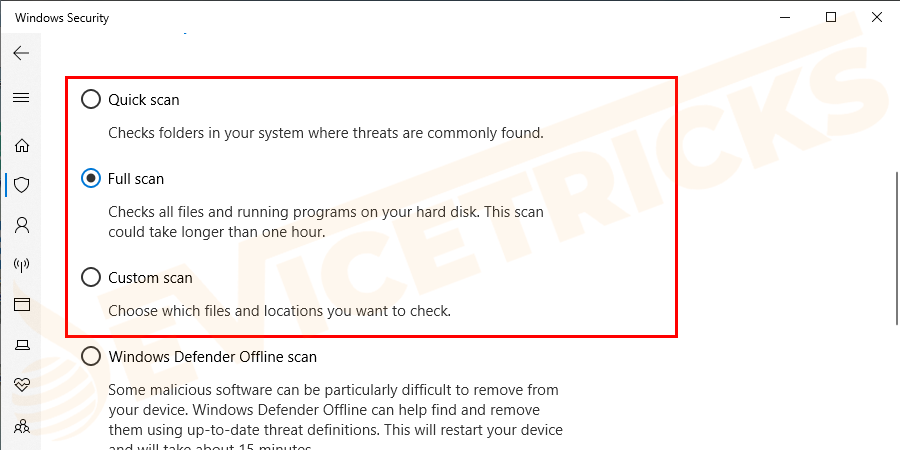 If you don't keep an eye on your system with antivirus software it may affect your system files. The anti-malware will find, block removes spyware that invades your browser. Do you still think this is the exact solution to fix Google chrome shockwave has crashed issue? If the error is caused due to the malware or virus to your system, this is the best way to clear it. As it automatically detects issues and fixes easily. You can use any of the third-party antivirus software that you trust most.
Disable Chrome Extensions
Google chrome extensions are nothing but features that we add to our browser for a better user experience. For example, the AdBlock extension is for blocking ads. In some of the cases, any one of the extensions you are having in your Chrome browser is causing the issue. To know which extension is causing the issue, you have to disable all the chrome extensions. Next, you have to enable each extension to know which is causing the error.
Open the Chrome browser and click on the three vertical dots present on the right upper part of the window.
Under the set of expanded list, go to more tools option.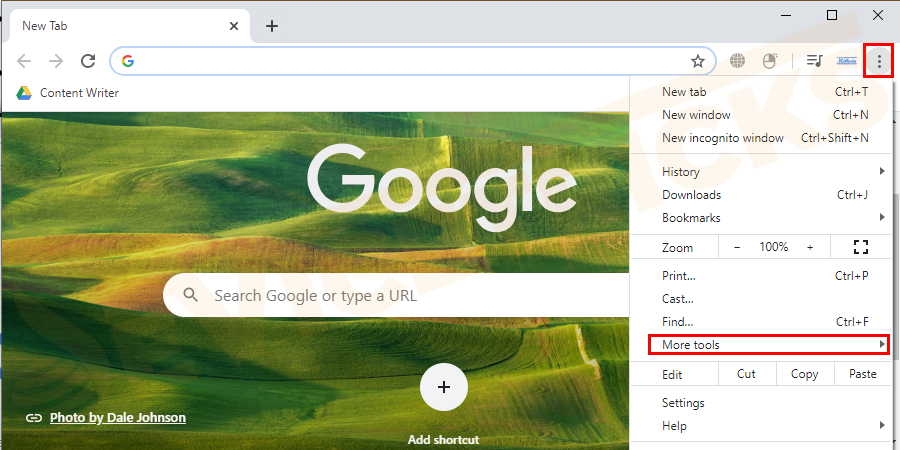 You can see an expanded set of options list under more tools. Navigate to extensions and double-click on it.
Google Chrome browser window navigates to the extensions in Chrome.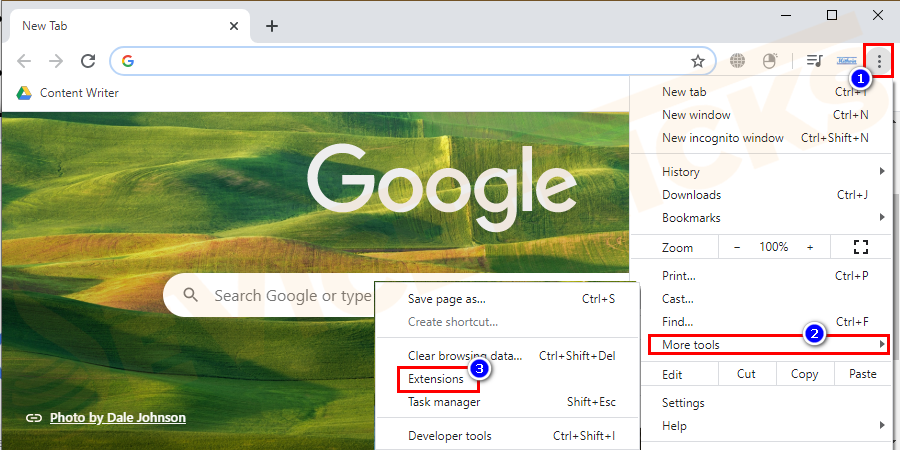 Disable all the extensions and close the Chrome browser.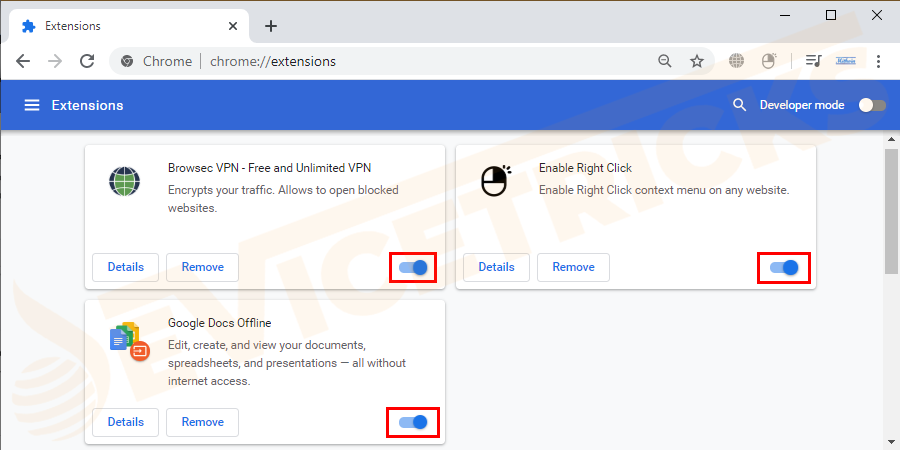 Relaunch the browser and check whether the problem is fixed.
If the problem is fixed one of your extensions is causing the error. You need not worry as you have to stay all disabled extensions as it is. Just enable each and every extension one at a time. Recheck for the flash process and go for enabling the next extension. Do it for all until you found the culprit extension.
Disable Hardware Acceleration
Hardware accelerations give us better video playing and watching experience. This feature will exist in all the browsers that task GPU with all the graphics and text rendering. But sometimes hardware acceleration in enable state will cause Google Chrome shockwave flash crash error. So, check whether the hardware acceleration is the real culprit by disabling it.
Go to the menu in the Google Chrome browser and click on settings from the list.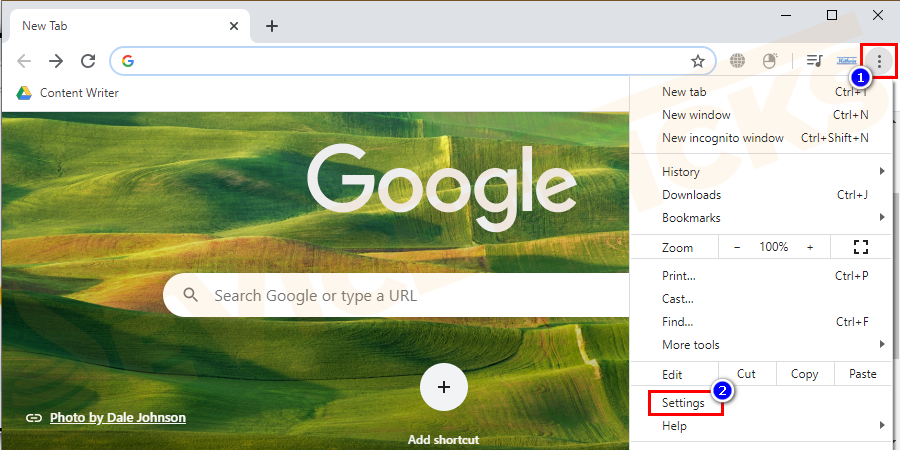 A window opens scroll down to find the Advanced option. Tap on it.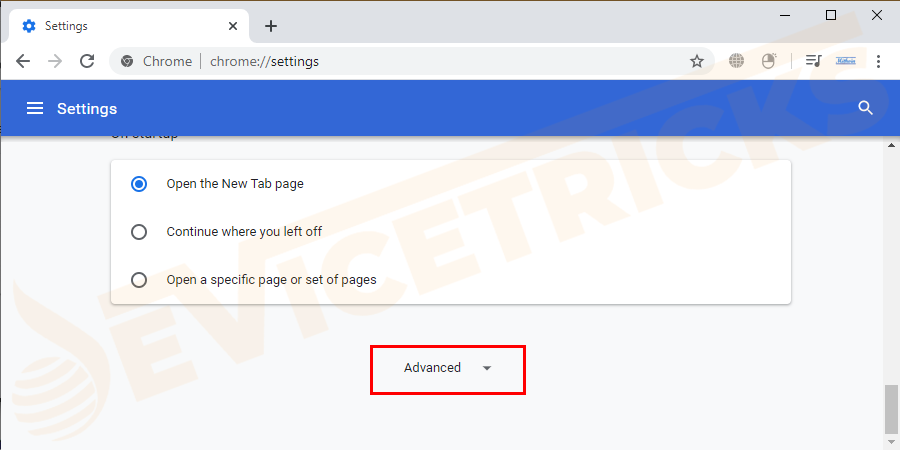 From the expanded list, go to system category under disabling toggle which is next to "use hardware acceleration when available".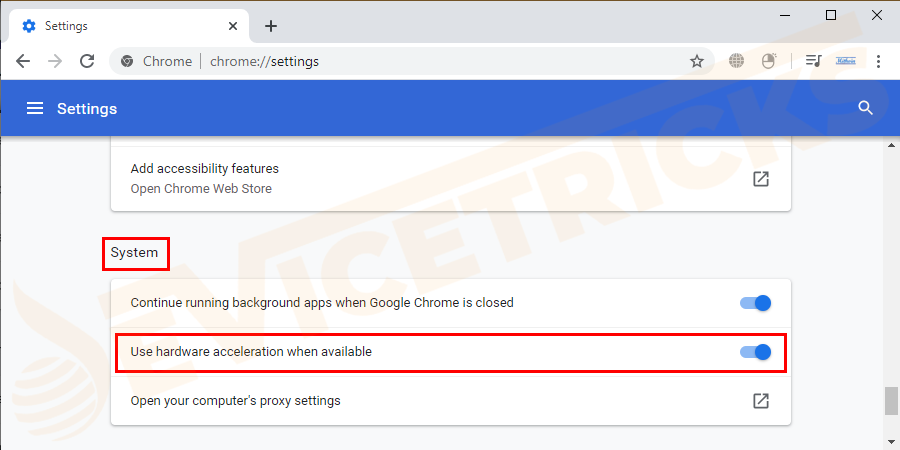 Close your Chrome browser and relaunch it. Test whether the problem is fixed else go with other solutions.
Update Graphics Driver
Due to errors or faults in your graphics driver will also cause shockwave flash crash error in Google Chrome. A corrupted or mismatched or outdated driver will cause a black screen, video burring, lagging, flickering, or stuttering. So you have to update drivers to fix these types of issues. You have two options manually or automatically. Select any of the ways and update your graphics driver. Follow these steps:
Press Windows+R keys to open the Run dialog box.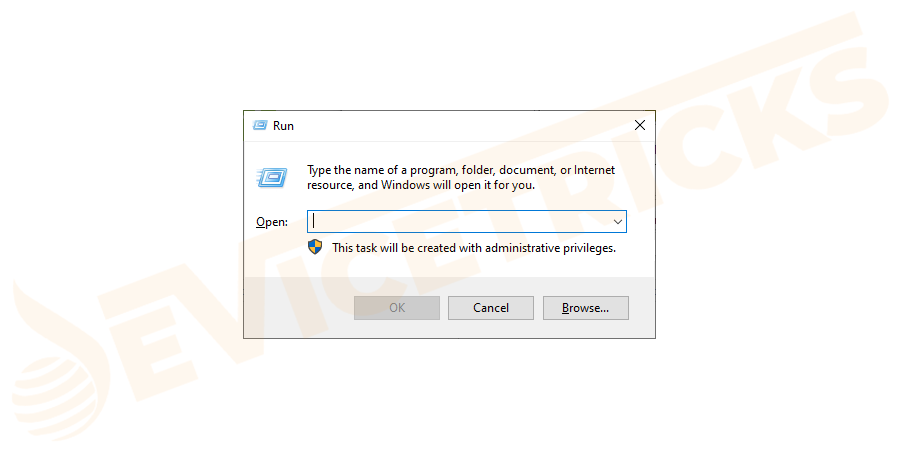 Type devmgmt.msc and press Enter to open the Device Manager.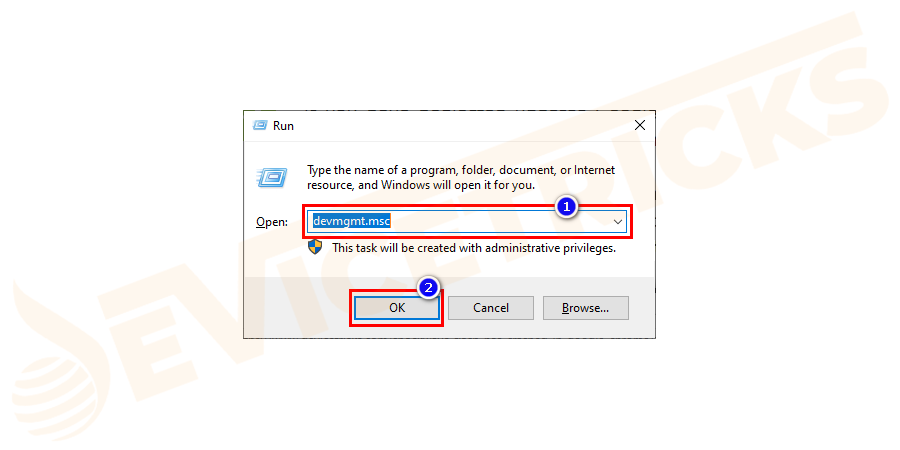 In Device Manager, expand the Sound, video and game controllers drop-down menu.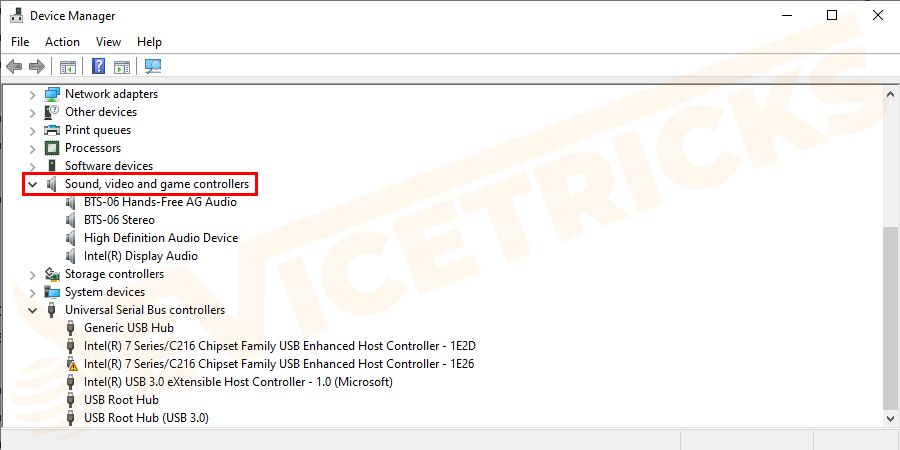 Right-click on your dedicated sound card driver and choose Update Driver.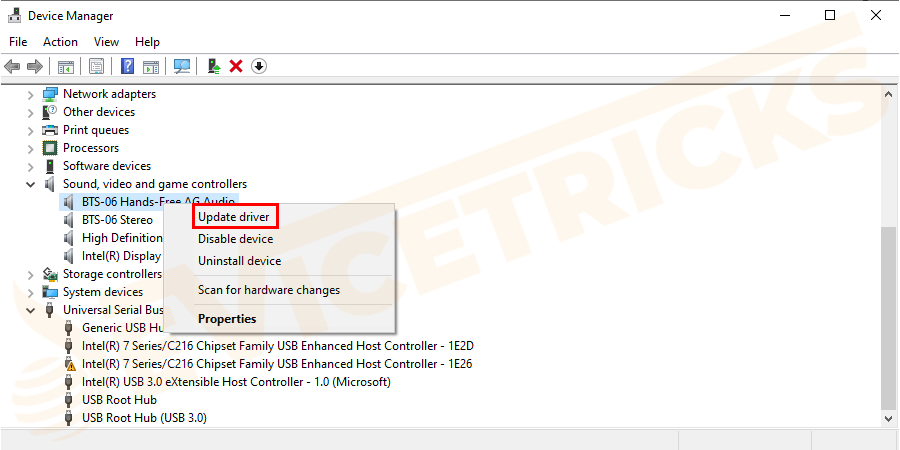 Click on Search automatically for updated driver software. Wait for the process to complete and follow the on-screen instructions to update the driver.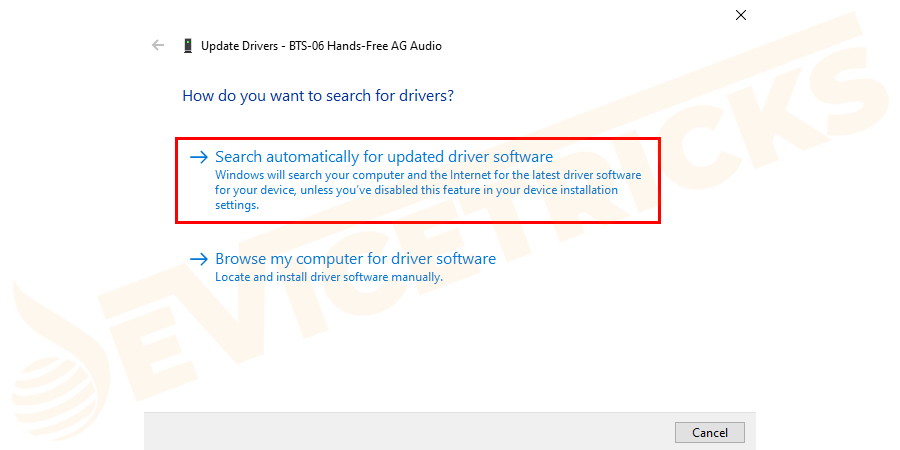 Once it is done, restart your computer and check for the error.
Update or Reinstall Google Chrome
If you have neglected updates Google Chrome then your shockwave flash can crash. So update your Google Chrome and in some cases reinstalling chrome will fix the issues.
Navigate to menu option with three vertical dots in the chrome browser. And under the set of list select help option.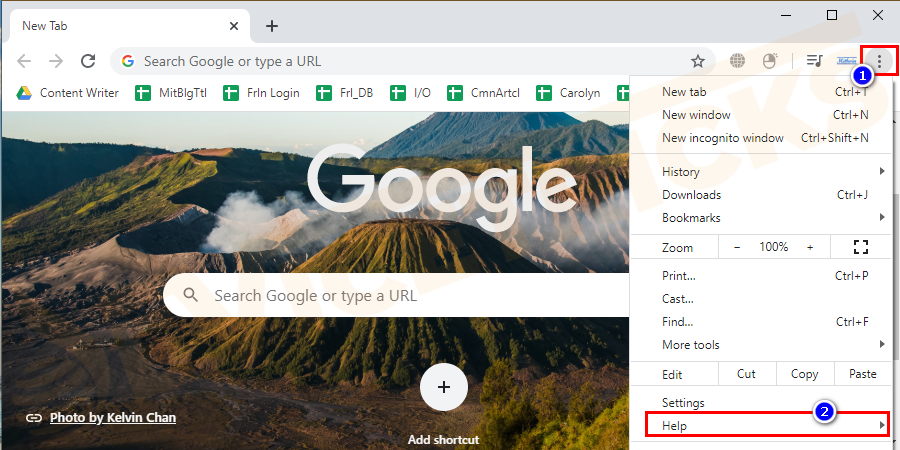 Next, on the preceding list select About Google Chrome.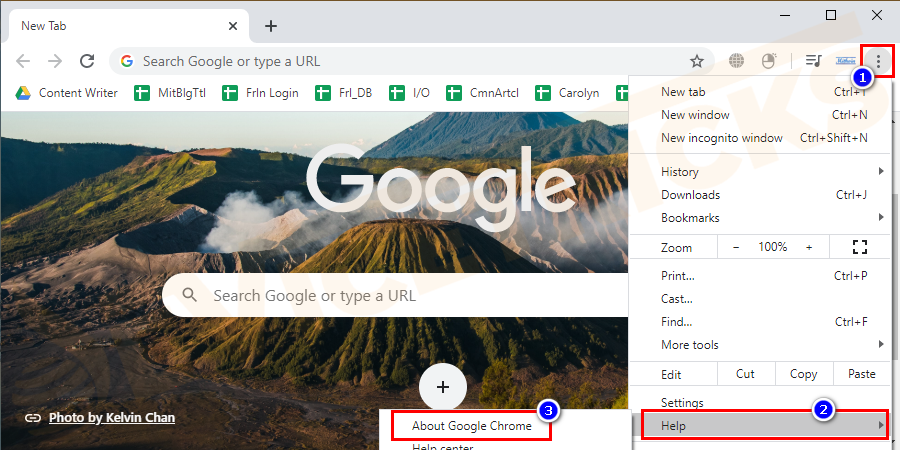 Now, a pop–up window open where Chrome automatically detects and let you know about the update.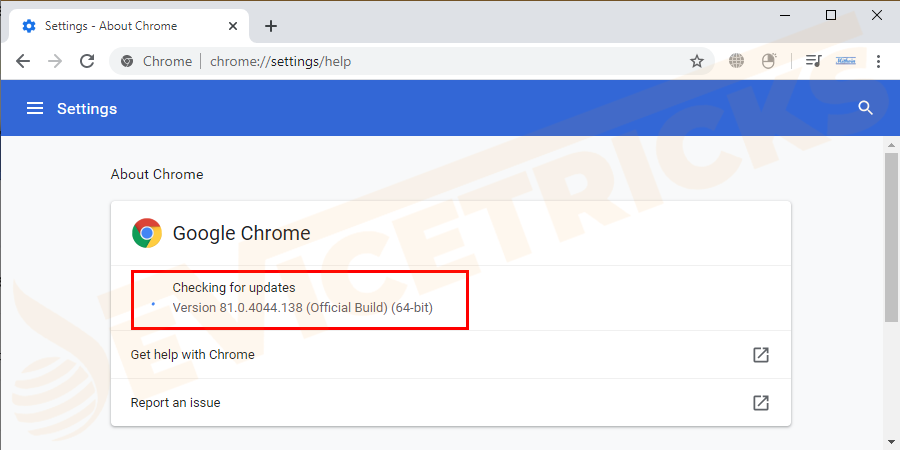 If your chrome browser is up to date, you will get a screen and uptick mark in blue as shown in the below figure.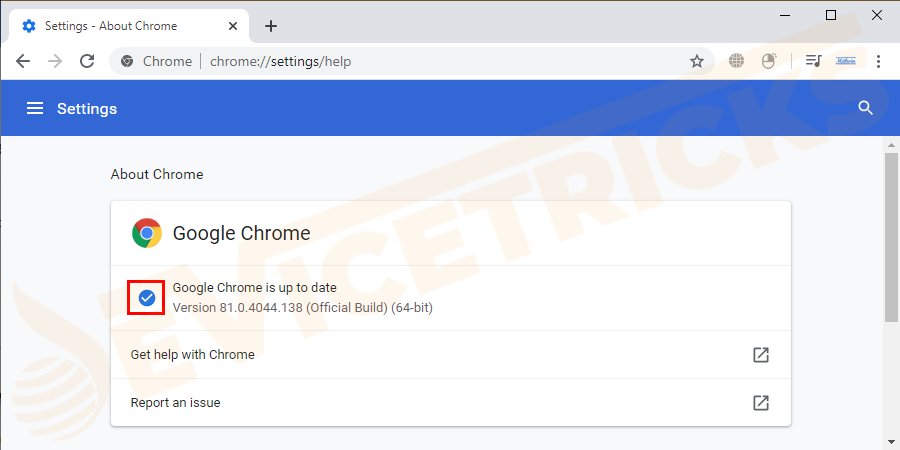 Hope this will help you to successfully update Chrome and relaunch Google chrome to see whether the problem is fixed.
If you don't find any update, uninstall Google Chrome and reinstall it to fix the issue.
** If the problem is regarding not having updated Google Chrome any of the above options will fix the issue.
Modify Flash Settings in Chrome
For some of the instances, your flash settings have changed and shockwave flash crashes. To fix this issue in your Google Chrome browser follow below instructions to reach flash.
Tap on the three vertical dots and list of options are available. And navigate to the settings option on the list.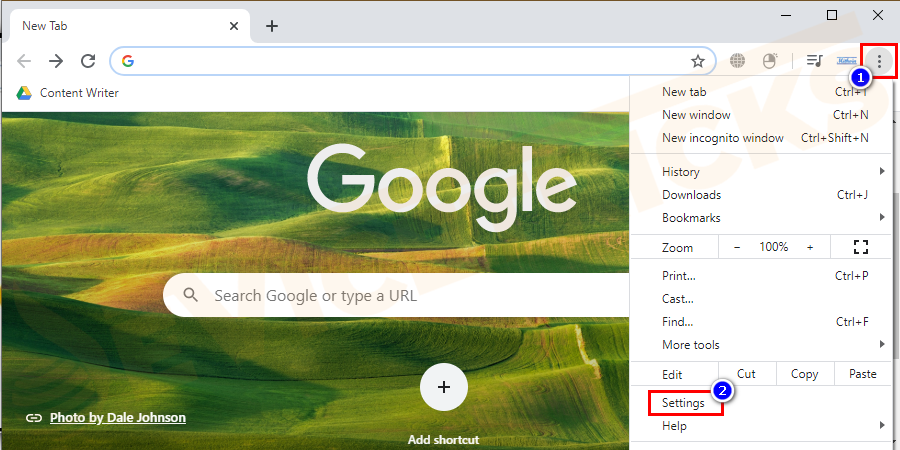 Go to advanced settings present at the bottom of the screen.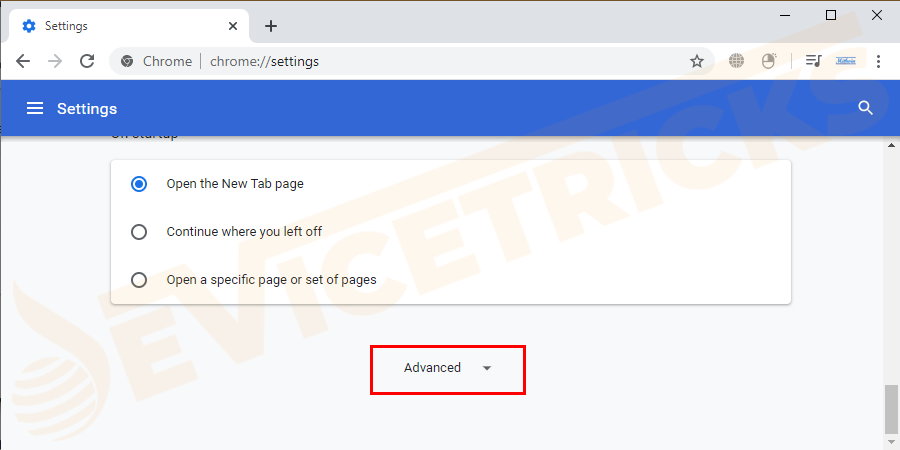 Under privacy and security category select Content Settings/ Site Settings option as shown in the figure.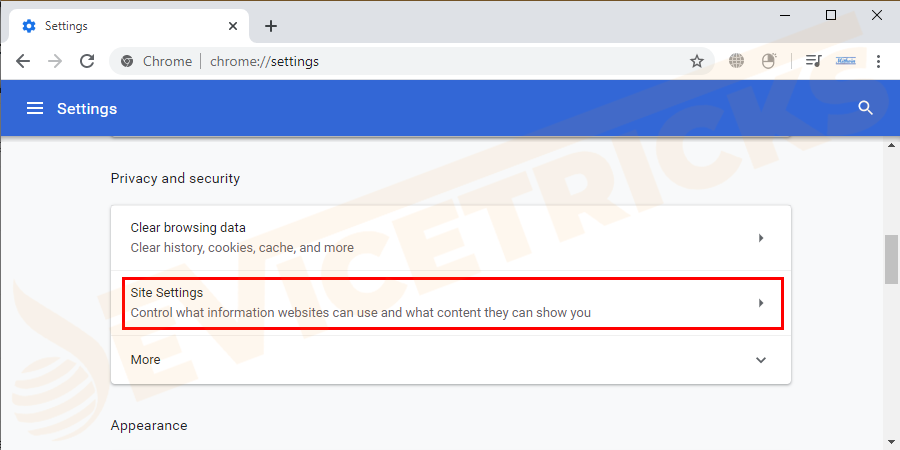 Navigate to flash and click on it. This will take you to the next page.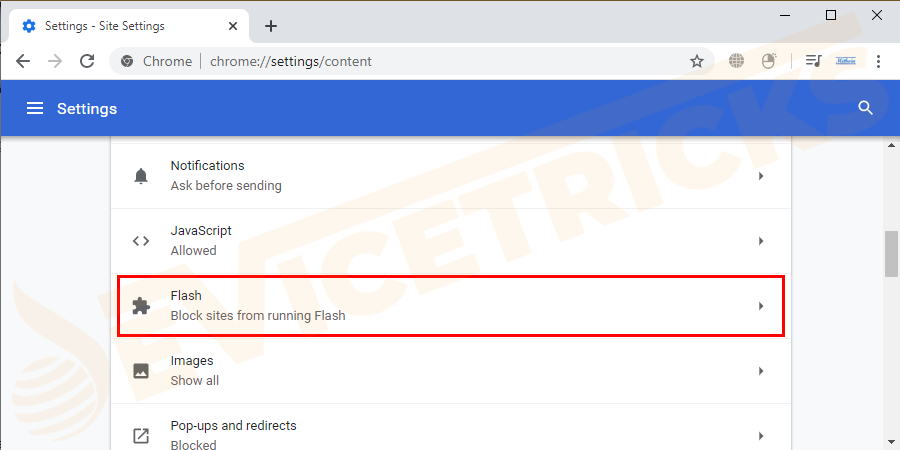 On the next screen, move the toggle as ask first (recommended) until it turns blue as shown in the figure.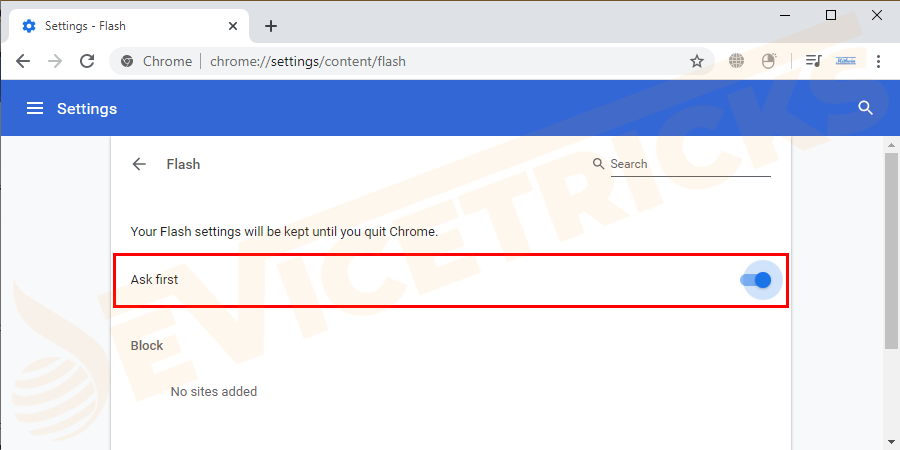 If the toggle is already blue then try out other solutions as your flash settings are correct.
Run the Google Software Removal Tool
If none of the methods worked for you then you can take the help of the tool launched by Google to clean up your Chrome browser from anything that is conflicting with normal performance. Follow these steps: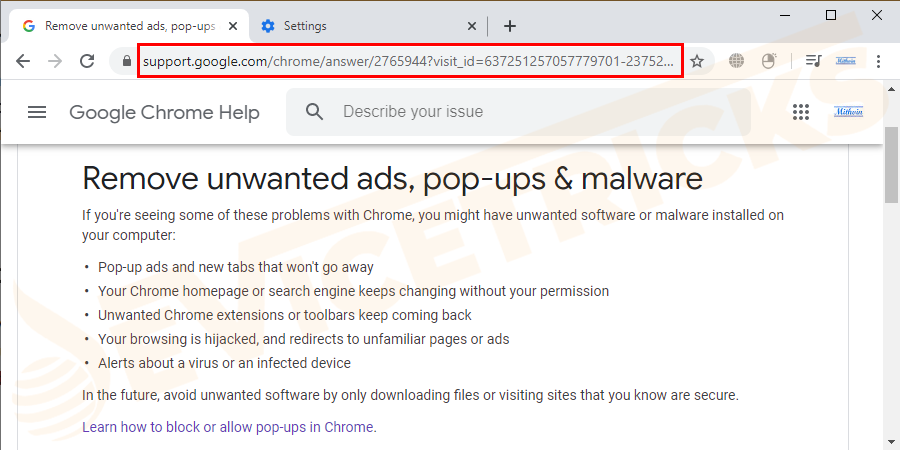 Or you can clean it directly from the Chrome Settings.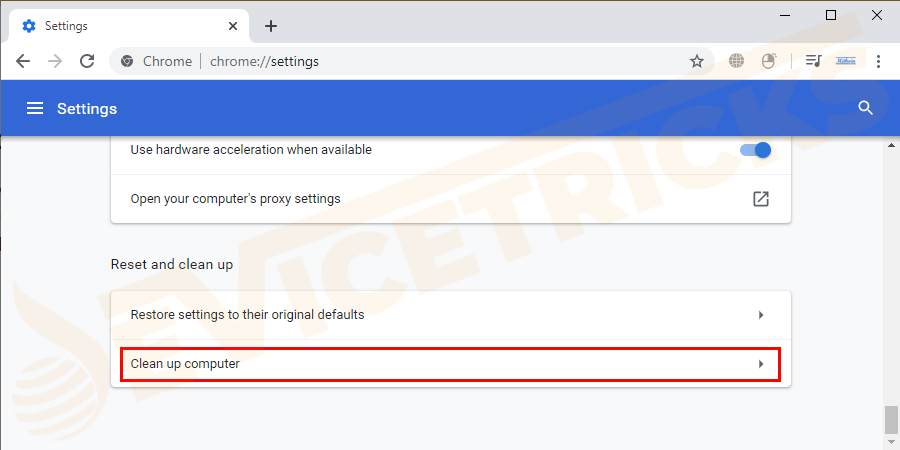 Restart your browser when asked by a prompt and check for the error.
Update Windows
If you haven't updated the Windows to its latest version then there are chances for the occurrence of "Shockwave Flash has crashed" error. In such a case it is recommended to update the Windows and fix this error.
To update Windows, go to the Windows Settings page.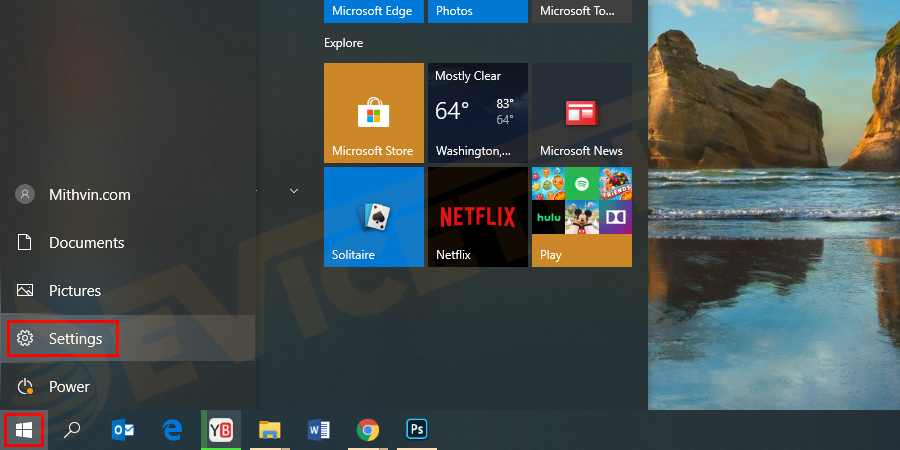 Now select the Update and Security option.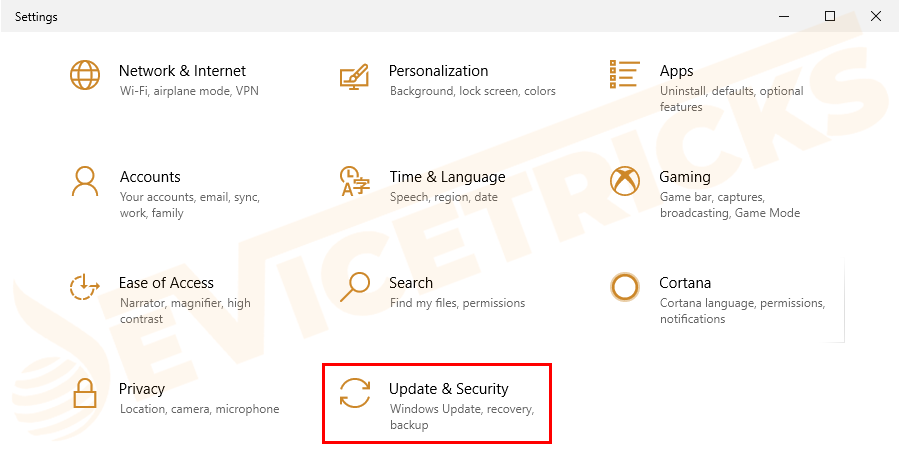 Under the Update and Security tab, select Windows Update. Now click on the option Check for Updates and wait for the investigation to complete.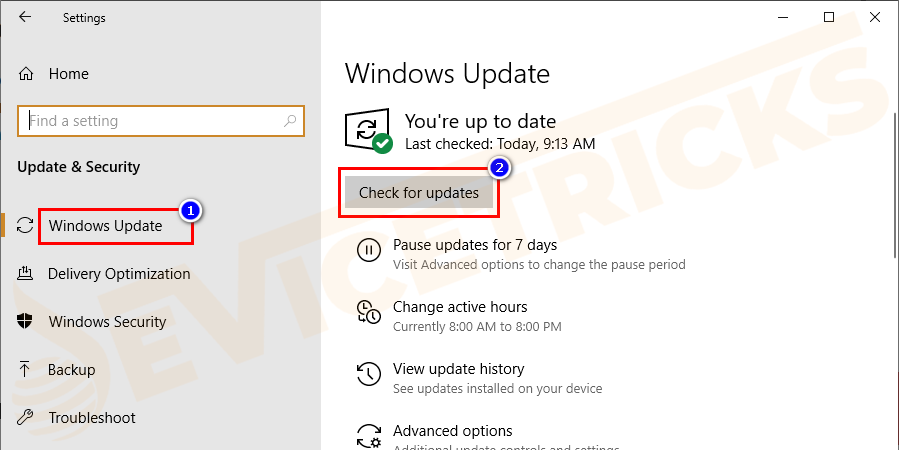 In the results screen, you will see the status of updates available if any.
Follow the on-screen instructions to install the pending updates available.
Restart the computer and check for the error.
Conclusion
I hope this article serves its purpose to help you in fixing the error "Shockwave Flash has crashed" in Chrome. Let us know in the comment section which method worked for you or if you have tried any other method to fix this error then let us know to add in this article. Wanna some more DeviceTricks? Please feel free to drop a comment below.
If you feel this article helpful please like, share, and follow our Facebook page and stay tuned to this space to get the latest updates on errors related to Windows, macOS, and Android.