It's 2020, and everybody knows that Sony will launch a new PlayStation this year. It's no surprise actually because it happens every year. This year we'll get to see and play with PlayStation 5, which is also being known popularly as PS5, completely inline popular gaming terminology. The console will be an upgrade to PS4 Slim and PS4 Pro, so there are a lot of expectations from it. Rumors about it have also been doing the rounds from quite some time, so as a result we've got to know quite a few things about it. What are they? Well, here we're going to talk about all of them with you. Let's begin!
PlayStation 5: What we know so far?
We already know a few critical things about PlayStation 5. For instance, we know that it'll be a Virtual Reality (VR) compatible gaming console supporting the existing PSVR headsets. There are also rumors of a PSVR 2, and we'll come to know more about it in the coming days. Other than that we know that PS 5 will have plenty of backward compatibilities, which means that most of the PS4 titles will work with PS5 as well. Upgrades to some titles have also been confirmed, which include:
Ghost of Tsushima
The Last of Us 2
Horizon Zero Dawn sequel
God of War
Watch Dogs: Legion from Ubisoft
Rainbow Six Quarantine
Gods and Monsters
Godfall from Gearbox
As the release of PS5 nears, more titles are likely to be announced and confirmed. It's also confirmed that the new console is going to look a lot different than all of its predecessors. A leaked press render shown below can give you a rough idea of what to expect in terms of shape and design: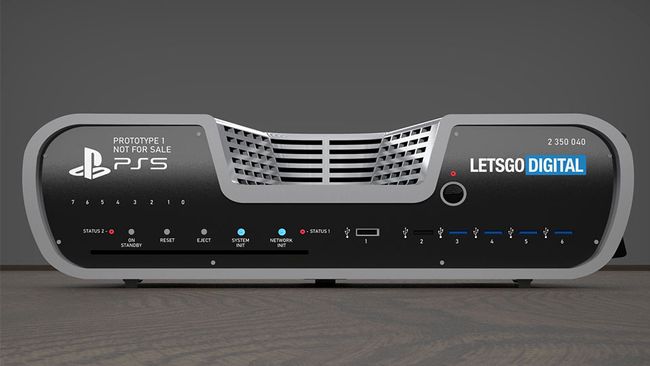 Of course, the final version will look a lot different and more polished than this one, but the purpose of this render is to only give you a rough idea. With this in mind, now let's take a look at the rumored specifications of PS5.
PlayStation 5 Key Specs
Here are the popular rumored specifications of PS5 at a glance:
Octa-core AMD chipset based on 3rdgeneration Rayzen architecture and Navi GPU
3d audio support
SSD storage
8K TV support
New audio engine for better sound quality
New UI
A new controller is also rumored to be the part of PS5 package. Rumors suggest that it will come with Haptic feedback, adaptive triggers for better simulation of actions and new back buttons. The light bar may be eliminated this time, and in its place, we may get larger triggers. The USB port is likely to be replaced with a USB-C port, and this time it's likely to be located on the top of the controller instead of the bottom.
Unfortunately, that's the only stuff we know about the specs of PS5 at the moment. We'll update this article as we come to know more about it in the coming days.
PlayStation 5 Release Date
Finally, the release date. Sony is not attending the E3 conference once again, so launch at E3 is ruled out. Sony has officially confirmed a Holiday 2020 release, which means that it may be launched sometime between October and November. A leak has even revealed the possible release date, which is 20th of November 2020, but we would suggest that you take it with a grain of salt until it's confirmed by Sony itself.
What's more?
For now, that's it. But more details will certainly keep coming out from both official as well as unofficial sources, and we'll continue our job of letting you know about them. So keep checking our updates, and share your first impressions of the PS5 console based on the information given above in the comments section below.