What smartphone makers don't do to make their smartphone screens fully bezel-less. They use pop-up cameras, they use motorized rear camera modules that spin on 180 degrees. But now Oppo has tried something even weirder to achieve the same bezel-less design. According to one of its recent patents spotted at China National Intellectual Property Administration, the company has imagined a smartphone with its selfie camera popping out from the right side.
Here's what it looks like from the front and behind: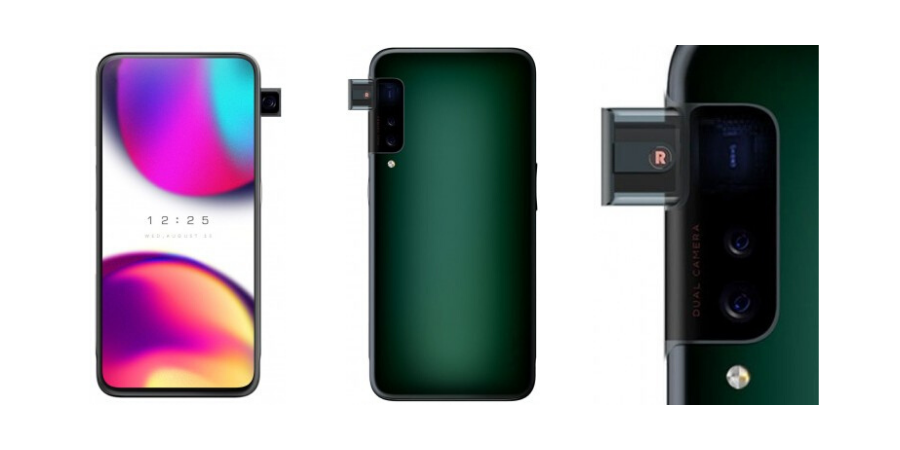 As you can see, it's a weird setting that combines the front-facing camera module with the rear-facing module. The primary module can be seen having no more than 2 camera sensors, and if the front unit is also attached to it then the manufacturing of the whole camera unit becomes simpler because they can be manufactured as one unit.
But from a practical, day-to-day point of view, a side-mounted selfie camera makes little sense. It may allow one to capture better selfies in landscape mode, but that's not something a lot of people actually do while taking selfies. If they actually wanted to do a different thing with the camera this time, they could have thought of many better options and places. But Oppo is known for taking some weird risks, and this one also seems to be a part of that.
Other than that, however, everything looks normal with this phone. It has got the power button on the right side, a type-C USB port, 3.5mm headphone jack, and speaker on the bottom, and volume controls on the left.
Though the design has been filed for the patent, it doesn't guarantee that the company will definitely release it to the market. All companies file patents for several designs and most of them never see the light of the day.
But as we all know, Oppo has a different taste for creativity and may surprise its fans with this new weird camera phone.