Vlogging has become more popular with internet celebrities, thanks to YouTube. Maybe you have binged through the numerous episodes hosted by famous fashion vloggers and wished you could too, upload videos that may end up getting millions of views. But you know nothing about video editing and your budget doesn't allow you the luxury of purchasing a top-notch video editor. Wait! Your dream doesn't necessarily have to be abandoned because of silly reasons. The YouTube video editor is free to use, and the results are great. Of course, the world's second-largest search engine has made things easier for amateurs.
What is YouTube Video Editor?
Probably you must be astonished to know that there is an online video editor for YouTube. To add to your surprise, the YouTube video editor app had been introduced in September 2011. At the time of its release, the editor was limited regarding features and specifications. However, as years passed by, the video editor for YouTube has developed into a more versatile editor, packed with professional features. It works fine across different machines including Macs, PCs as well as Chromebooks. However, problems may show up while working on a mobile device. So, if you want to edit YouTube videos on your Android phone or an iPad, the idea might not pay off.
Why should you use the YouTube Video Editor?
The YouTube Video Editor is not the best editor you may ever come across. Nevertheless, it comes free. Besides, it consists of all the necessary editing tools you would require to create a professional video. Since it's online editing software, you have the privilege to use the same from anywhere in the world. An internet connection and a computer are the two tools that you will need. So, you have all the reasons for using this particular feature of YouTube. The YouTube video editor is much easy to use than you may imagine. You would not require too many skills to operate the video editing tool provided by YouTube. It also has some great built-in sharing options for your videos. So, it is much easier on today's date to create and publish videos without spending a penny. We believe these reasons justify your need to use the YouTube, video editor.
How to edit videos on YouTube?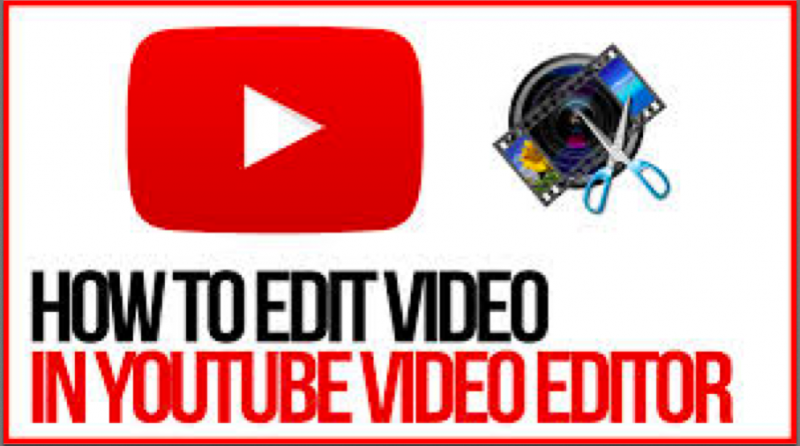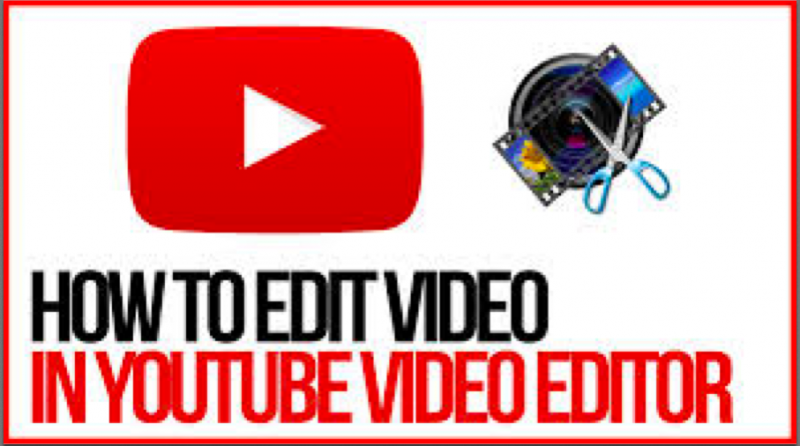 To get started on your quest for top-notch editing videos on YouTube, you need to first login to your account. If you already do not have a YouTube account, you need to sign up first. It's an amazingly simple procedure.

Once your login process is completed, you can upload the video clips that you want to edit. A simple click on the upload button situated on the top right corner of the website. Or you may also use this link: http://youtube.com/upload.

The next step in the process is optional; however, it's a worthy idea. Once you upload raw video footage, YouTube offers you the option of marking it as 'Private'. Choosing this option will ensure that no-one can find your footage. But why you may want to mark your footage 'private'? It's highly probable that original raw footage might not make too much sense as a whole. You certainly need to edit some parts of it so that the audience can see what you want to show them. Setting your video to the private mode is the best way to make it unsearchable unless your video is ready to upload.

On the completion of your video upload, you may now navigate to the YouTube, video editor. Now you may click on the upload button. Once you are done, an option 'Video Editor' would appear on your screen. Besides the process as mentioned earlier, you may visit the editor directly by putting the following link on your address bar, and clicking enter http://youtube.com/editor.
How to Add and Trim Video?
To add your video clips to the editor's timeline, you need to click on the media library option on the top right-hand corner of your screen. Now locate the video you want to edit. You may preview each clip to decide which video to upload. You may do this by clicking on the red 'play' button. On being able to figure out the video you wish to edit, now you should drag it to the editor's timeline. You can also place your cursor over the thumbnail option and click on the "+" sign. To make things easier, YouTube allows you to rearrange the order of clips by merely dragging and dropping each of them within the timeline.
YouTube allows adding up to 50 video clips as well as 500 pictures at a time. However, adding so many media for editing can make your timeline look busy and the entire task gets confusing, which you certainly want to avoid. Anyways, if you still require to work with multiple clips at a time without inviting confusion, the following trick should help you.

To view all the items that you have uploaded for editing, you may take advantage of the slider option within the app. This option is situated beside the microphone icon on the bottom right corner of the portal. You can use this option, or you can also scroll your mouse, to zoom in or out of the editor.

Now that you have uploaded your clips, you now may want to trim the beginning or end portion of the same. To edit the clip, you first need to select it. A simple click on the desired clip should make it happen. Once you choose a clip, the preferred video would appear to be highlighted. A thick blue bar would be added to the beginning as well as the end of your clip. Now move your cursor above the middle portion of this blue bar. Click on it and drag the same to trim your footage's beginning or ending.
How to add photos to your video?
YouTube also offers a photo slideshow tool. But you are not looking to create a photo exclusive slideshow. You wish you could add some images to your video to make it an attractive one. If adding photos to your video is what you are looking for, YouTube has just fulfilled your wish. Now you can do the same with the best YouTube video editor. Let us find out how.
Adding photos to your video is an amazingly easy trick. All you need to do is click on the camera option inside the editing menu.

Now you may click on the option 'Add photos'. You are allowed to upload photos from either your desktop or your Google+ account. The process would not be a headache for someone who is used to uploading photos on Facebook.

Adding images to the YouTube video editor app can be done a similar way as uploading a video. All you need to do is drag the images to the place you want them to appear. You may also decide the duration of your photo's appearance on the screen just by dragging the bars beside the same.
Creative Commons: Everything you need to know for avoiding copyright issues
YouTube has proved to be extremely protective of the content published by its users. This is indeed one of the best features of the website that has helped it attract a lot of creative individuals. Now if you wish to use some footage that doesn't belong to you, YouTube provides you with specific options. You may search deep into YouTube's video library. However, you must choose only those videos that have a license for Creative Commons usage. A Creative Commons license is generally the permission granted by the original owner of a video so that anyone can use that video to create new content.
The same thing is going for the music used in YouTube videos. For this purpose, YouTube creators have launched an extensive audio library, which collects all the information about musical compositions and their authors, whose rights are protected by law. As an alternative, you can use license-free music from paid stock platforms.
How to set a license?
While you are uploading your video to YouTube, you would get an option to set a license as per your desire. By default, a standard YouTube license is automatically applied to your video. However, if you want, you may opt out of a Creative Commons license.
According to a statement published by YouTube, you can mark your video with a 'Creative Commons license. Once you do so, you will be granting permission to the entire community on YouTube for reusing and editing that same video for future use. And the fun part is that you would not even be credited for your original work. So, if you want your video to be used by more people across the web, the Creative Commons option shall come to your use.
Conclusion
Now that you know everything regarding editing a video using the YouTube video editor app, head towards your computer. There's more creativity waiting for you. While you may feel overwhelmed working on the high-profile paid video editing software available on the internet, YouTube has certainly made the process extremely easy. So let your inner filmmaker get out of the rut. Grab your mouse and keyboard and let the best YouTube video editor do the magic for you.
If you feel this article helpful, please like, share and follow our Facebook page and keep visiting our website for such tutorials.