If you are someone who likes to read online news, then we have good news for you. On November 19, 2019, Google Assistant added a new feature that is now easily available on your phone. On Tuesday, Google also revealed that the Assistant would deliver news and stories from numerous media partners. Moreover, the new feature will activate when a user asks Google Assistant to read the news.
What Your News Update feature has in store for us?
Your News Update is not available in English in the United States. As per the sources, the feature will get activated when you ask Google Assistant to "Play me to the news." Furthermore, it will also bring curated news stories as per your interests. One can access this feature on their smart speaker or any smartphone.
Google revealed that Assistant would bring new stories as per your history, recent audios, and location as well. The feature analysis the audio file asked by the users. Then, it will find related stories for them. In between each news audio, Google Assistant will inform you about what story or news is next on the playlist. Moreover, it will also reveal the source and organization that published the news.
How to enable the new 'Your News Update' Feature?
One can activate the new feature by launching the Google app and navigating to the setting page of Google Assistant. Click on the "News" subheading under the "You" tab. Then, you can see the "Change your playlist format," and then click "Your News Update."
As per Google, the feature will be available all over the globe by next year. Famous publishers like Billboard, USA Today, CNN, Mashable, CBC Local, Axios, Daily Beast, iHeart Radio, and many more have partnered with Google.
What is Your News Update?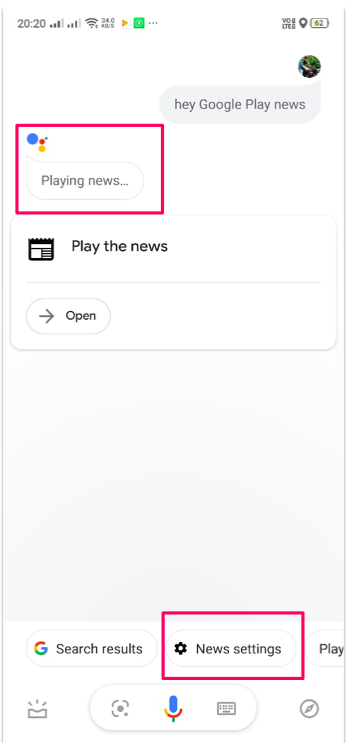 In 2016, Google introduced News on Google Assistant and helped users to find relatable news published by top publishers. In 2018, it created new functions to understand spoken responses on news queries on the user's Google Home.
Recently, Google launched a new feature and collaborated with numerous publishers to create a useful tool for the future. Google revealed that it would find relatable topics and relevant news for the users. Stay tuned for more updates.