PDF files display characters as vector objects, so they open the same way in different PDF readers, on different devices, and on different operating systems. In our workflow, we tend to share and send documents in PDF format so that all parties view them in the same way.
It is to achieve display consistency at all costs that PDF sacrifices editability. You may want to convert PDFs to Word documents to make changes to text more easily.
Converting PDF to Word is an immediate need, so without further ado, let's explore the easy way to develop PDF to Word.
How to Convert PDF to Word in MS Word
Word is a word processor application developed by Microsoft, Word 2013 or above supports the feature that converts PDF to Word. If your PDF document has more pictures, conversion in Word usually leads to style and formatting problems.
But for text-based PDF documents, the use of Microsoft Word to convert PDF to editable Word will get good results.
Open the PDF with Word
First, select the PDF files that need to be converted, and then click the right mouse button to move the mouse to [open with], and then click [select other applications]. 
In many applications to find Word, click [Word] and then click [OK].
Convert PDF to Word
Then a prompt will pop up to tell you that the new Word document generated may look a bit the same as the original PDF, next click the [OK].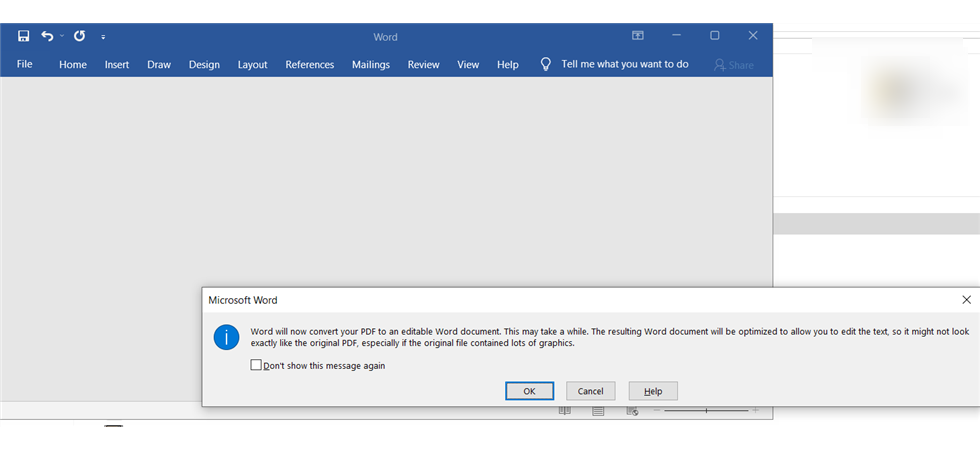 Wait a few moments, you will be able to get a Word document that can be edited. Text can basically be identified, but the conversion effect depends on whether the original PDF has a large number of pictures and other factors.
Save the File as Microsoft Word
The layout of the converted Word document may be a bit messy, then you can manually adjust it.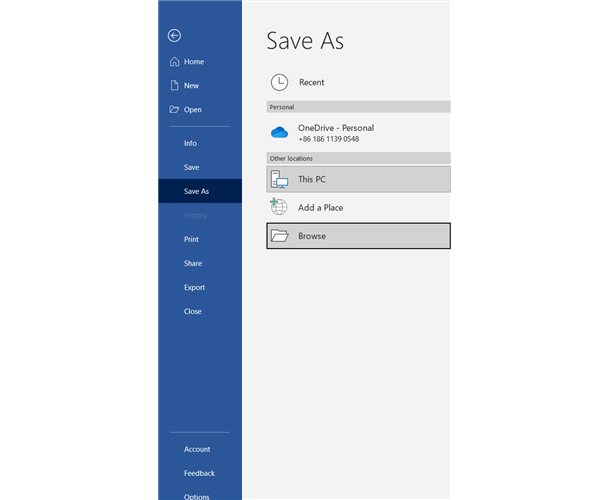 Finally, go to the File menu, and save the new Word file to the computer. 
Also Read: How to Unlock a Secure PDF?
How to Convert PDF to Word in Google Docs
Google Docs provides another way for you to convert PDF files into editable documents, but the conversion process may mess up or change the PDF file format.
In addition, Google Docs does not recognize the images in the PDF file, which means all the images in the PDF will be lost after conversion.
Open the Google Drive 
Open your Google Drive and click the "New" button.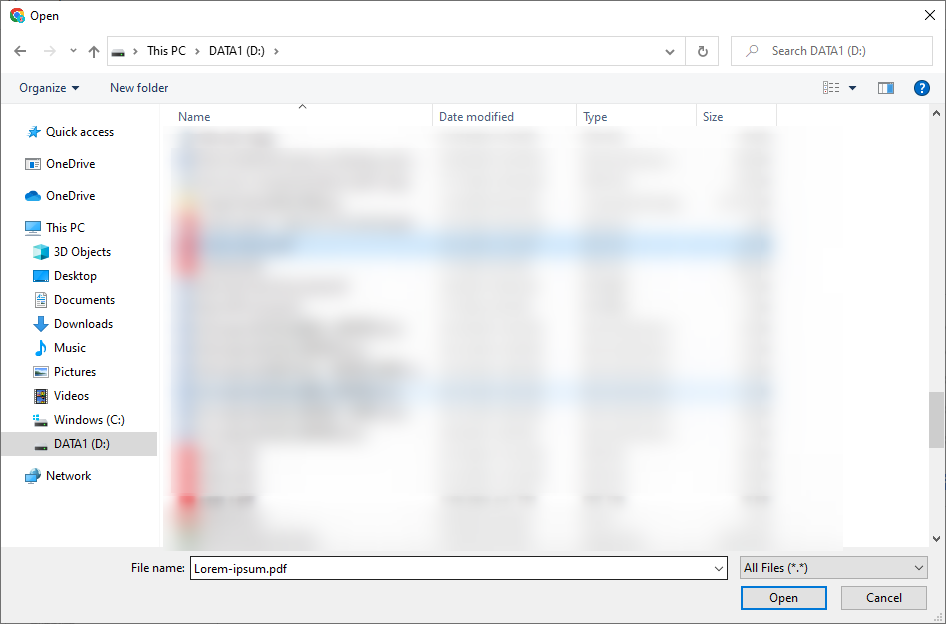 Select the "File Upload" option, which will open the File Explorer (Windows) or Finder (Mac) window. Find your PDF file and click the "Open" button.
Open the PDF with Google Docs
Your new document will now appear on your Google Cloud Drive. Next, right-click on the file in Google Drive, click the "Open with" menu, and then click the "Google Docs" option.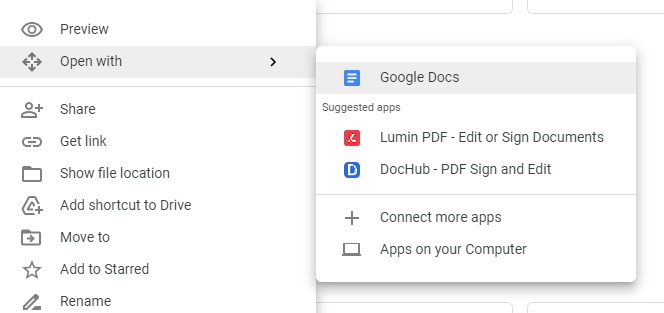 Then, your PDF file will open as a Google Doc document.
Download the File as Microsoft Word
Now, click on the File menu. Find the Download option in the drop-down menu bar., and then click the "Word Document (.docx)" option.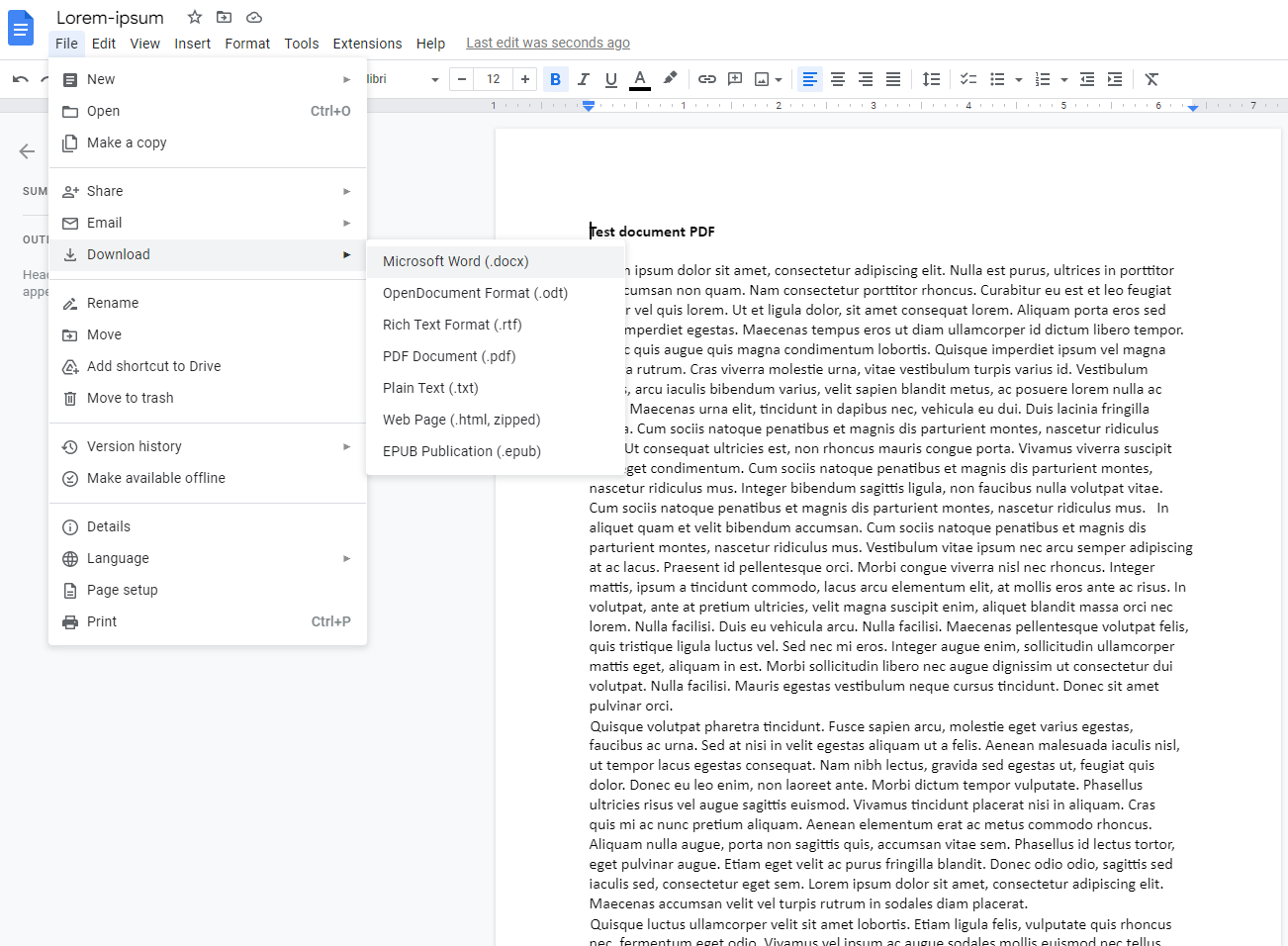 Your Google Docs file will be converted to Word format and downloaded to your local PC as a Word document.
How to Convert PDF to Word Online
Using Microsoft Word or Google Docs to convert PDF to Word can't maintain the formatting, but you can get a good conversion result with the help of online conversion tools.
PDFgear is a free PDF converter, it is able to convert your PDF to WORD documents with amazing accuracy. With just a simple drag-and-drop operation, you can convert PDF to Word in seconds.
Unlike other free converters, PDFgear does not limit the size and number of files you can upload.
Navigate to Online PDF to Word Converter
First, open your browser and visit PDFgear's website, then you can see they pack dozens of PDF-related online tools. Click the [

PDF to word

] option on the page, which will take you to the corresponding tool page.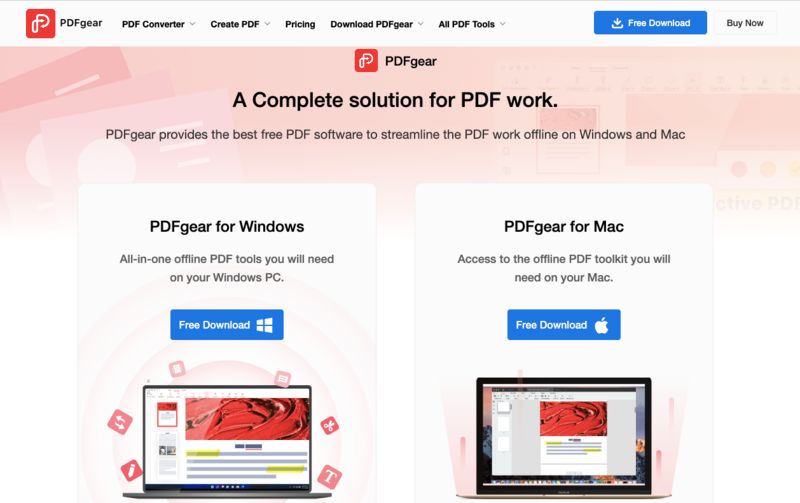 Add the PDF File to the Converter
 You can click on the Select the files button to upload the PDF files you need to convert in the traditional way, or drag and drop PDF files to the online converter in a simple way.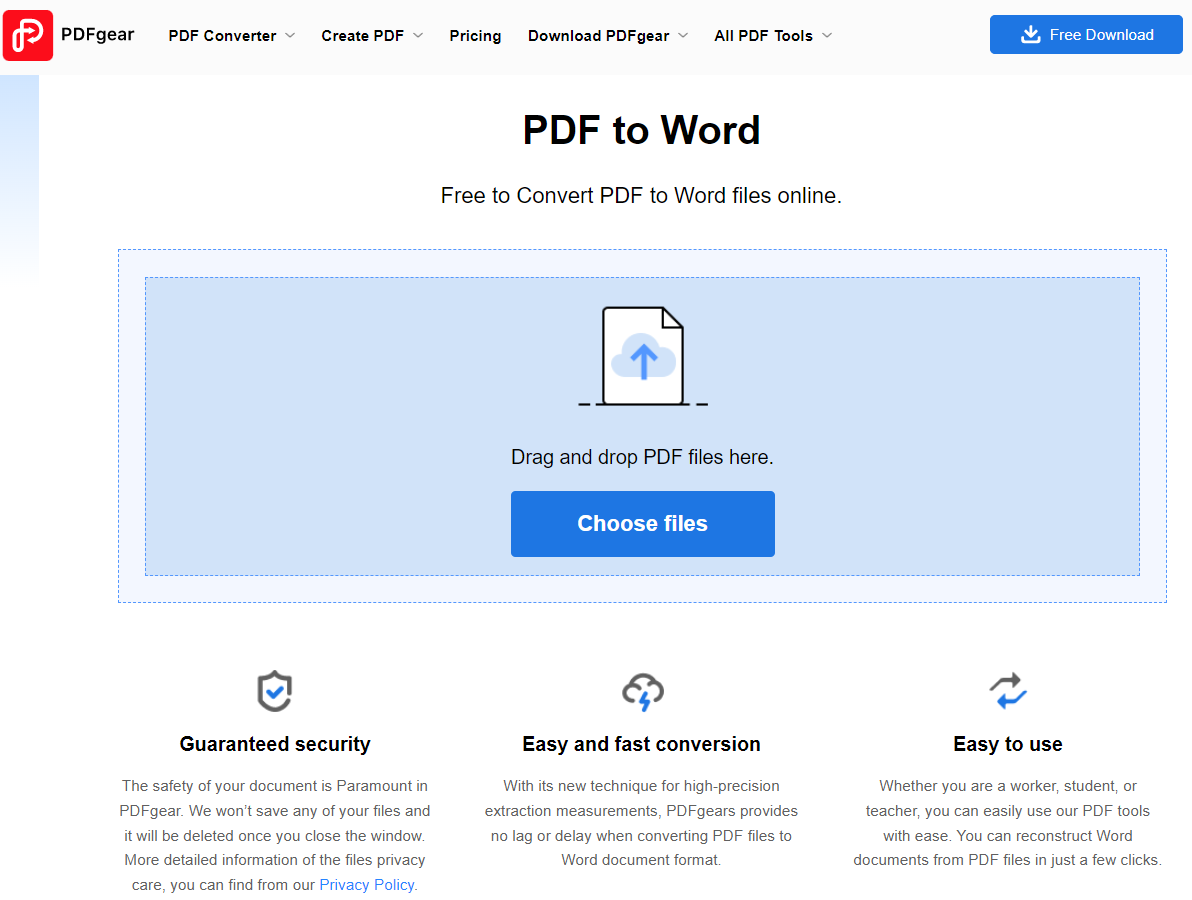 Convert PDF to Word Online 
Once your files are uploaded successfully, PDFgear will start the conversion process automatically. It only takes a few seconds for the PDF file to be converted to Word, without any formatting loss.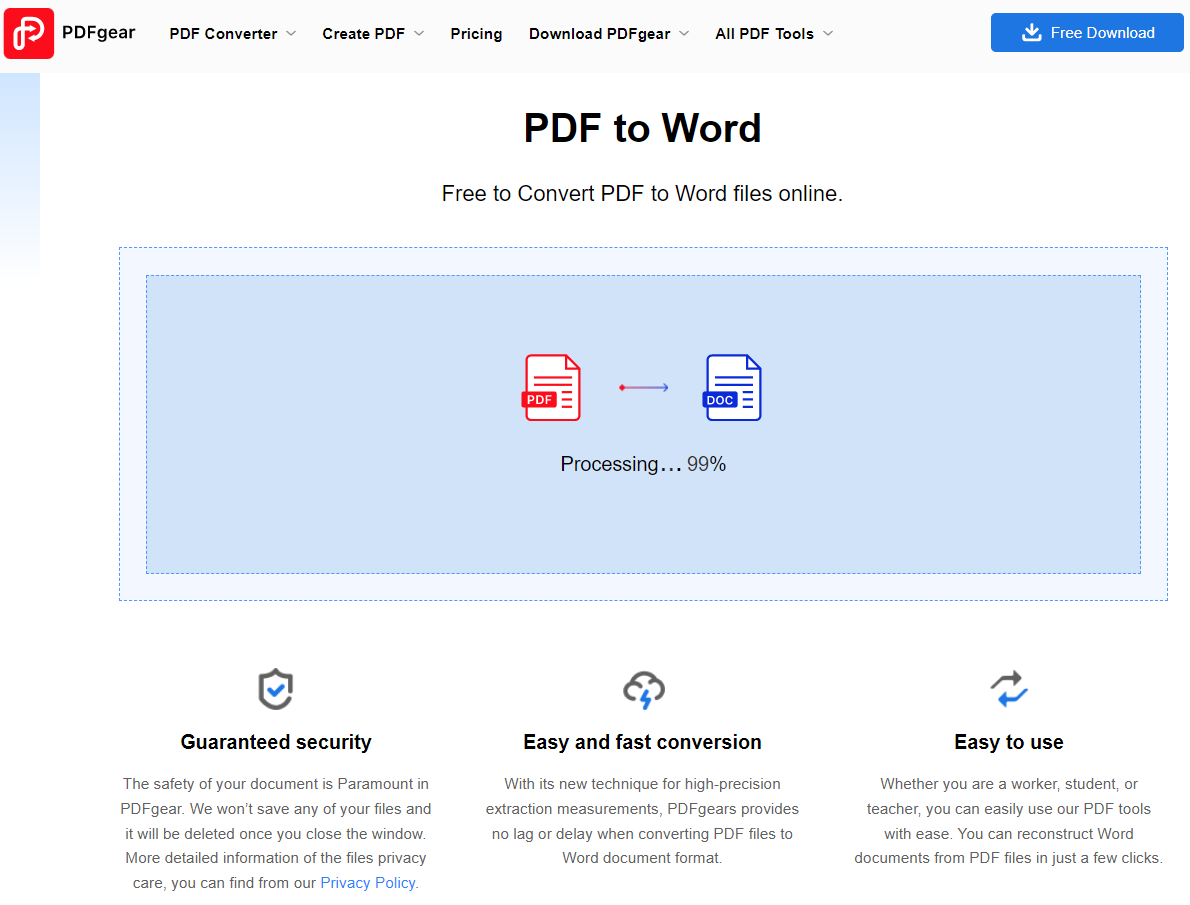 Click the blue Download button to save the converted Word file locally, it's that simple.
Frequently Asked Questions: PDF to Word Converter
Why do I need to convert PDF to Word?
PDF, in order to maintain the consistency of display, set locked text, font, spacing, scaling, margins, and all other attributes in its file. If you need to modify or replace the text and images in PDF files on a large scale, you'd better convert them to editable Word documents. 
Can I convert a PDF to Word for free?
Yes, you can convert a PDF to Word for free, all three methods mentioned above are free. Or you can search for a free PDF to Word converter on your Google Chrome browser, and then choose a converter from the search results to do the PDF to Word task for you. 
How to Batch Convert PDF to Word?
If you want to convert multiple PDF documents to Word at one time, I highly recommend PDFgear standalone software: Free download PDFgear on your Windows or Mac> Open PDFgear to enter the main interface, then find PDF to Word converter in the toolbox> Click Add files button to import multiple PDF files> Click the red Convert button at the bottom right corner to convert PDF to Word. 
How do I convert PDF to Word on Mac for free?
You can convert PDF to Word on your Mac by copying and pasting: right-click the target PDF file and choose to open with Preview > press and hold the left mouse button to select the text content, then press Command + C to copy > open a new Microsoft Word document and use the shortcut Command + V to paste the text > go to File menu to save the new file.  
Is it safe to use PDFgear?
It is 100% secure. The developers of the PDFgear application take user privacy very seriously as all uploaded files are deleted from the server after you refresh your browser or leave the site. In addition, all file processing takes place within a military-grade secure network environment.
To Sum Up
For a variety of reasons, you may need to develop PDF files into Word. But no matter which method you choose to convert your PDF documents into editable Word, we hope you increase your productivity, streamline your workflow, and minimize the time spent on mundane and repetitive tasks in the office.
If you feel this article is helpful then please like, share, and follow our Facebook page and keep visiting our website for such guides.